PART 3: CROSSING SPACES
Chapter 11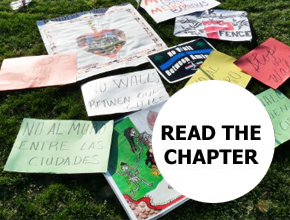 "Digital Writing Spaces across Institutions on the U.S.–Mexico Border"
Todd Ruecker and Beth Brunk-Chavez
This webtext explores the digital writing spaces in an overwhelmingly Hispanic high school and two federally designated Hispanic Serving Institutions (HSIs), a community college and a university, located in a midsize city on the U.S.–Mexico border.
The authors explore how digital writing spaces differ across these three institutions and how those differences impact instruction and student work. Through this comparative analysis, the authors argue that the spaces of the environments evidence how educational institutions have not adapted to the recent increase in the Hispanic population in the United States.
---
Note: To read the chapter, click on the section headings that run down the left side of the page.