PART 1: FRAMING SPACE
Chapter 2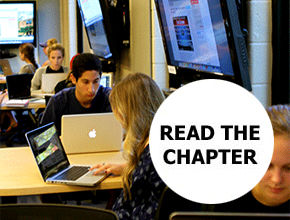 "A Design Philosophy for a Multimodal Composition Classroom"
Aimée Knight
Knight recounts the story behind the construction of a multimedia production classroom at St. John's University and argues that an explicit design philosophy was crucial in the successful realization of this space. Following the classroom from its initial proposal stage through to completion, this chapter details how the new classroom and accompanying design philosophy developed.
Through this retelling, Knight explores how a design philosophy can be a crucial component of space design. Although focused on one specific case study, the chapter offers advice others can use regarding the development and implementation of a design philosophy.
---
Note: Action verbs serve as the main links to guide readers through the text, much as they guided Knight's department through the year-long process of classroom construction.