PART 2: MODELING AND MAKING SPACE
Chapter 8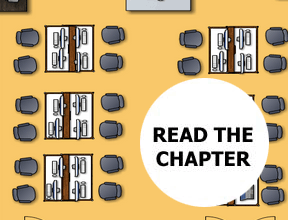 "Trading Spaces: The Rhetoric of Reconfiguration"
Andréa D. Davis
In this webtext, Davis describes the processes and challenges involved in composing and submitting a proposal for a newly configured computer lab space at Washington State University, Tri-Cities. In recounting her experience, Davis affirms the value of articulating space solutions that attend to financial constraints while also making the best use of existing physical spaces.
The chapter provides an annotated version of her proposal, which describes the deliberate, infrastructural practices of redesigning, appropriating, and transforming existing spaces to address programmatic needs for computer/writing lab updates, while still pragmatically attending to the severe budget and space constraints of a branch campus.
The conclusion provides advice for evaluating the various institutional, financial, pedagogical, programmatic, and other constraints that influence decisions regarding instructional lab space.
---
Note: Use the drop-down lists of the top navigation bar to navigate through the chapter.