PART 1: FRAMING SPACE
Chapter 4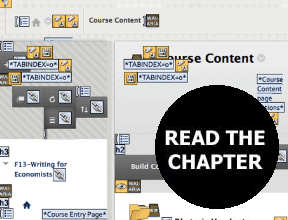 "Accessible Writing Spaces: A Framework for Inclusive Design of Virtual Composition Classrooms"
Christopher Scott Wyatt

Wyatt suggests an approach for actively including students with physical and cognitive differences in virtual writing classes. Wyatt argues that good virtual classroom design benefits all students and instructors—not only because inclusive space design leads to effective instructional strategies for a broader range of students, but also because instructors learn about their own instructional practices by teaching inclusive writing courses.
After exploring ways in which virtual classrooms can be more challenging to navigate than physical spaces for some students, this chapter offers an overview of legal mandates regarding accommodations and resources instructors can use to check that their virtual classroom spaces comply with rules and best practices.
---
Note: A top navigation bar links to the main parts of the webtext. Once readers enter a main part, section links are then made available for readers to navigate through each of these parts.