PART 3: CROSSING SPACES
Chapter 9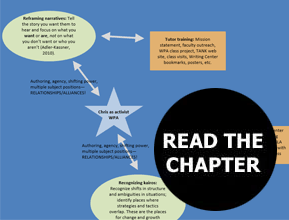 "Activist Mapping: (Re)framing Narratives about Writing Center Space"
Christine Hamel-Brown, Celeste Del Russo, and Amanda Fields
Webtext Design by Marisa Sandoval
Hamel-Brown, Del Russo, and Fields recount how, in response to significant budget cuts, their writing center became part of a new campus support services center at the University of Arizona. This chapter explains the physical and intellectual journey writing center staff members went through in this transition.
The authors explore the role and identity confusion that can come with moving from an autonomous to a shared physical and institutional space. Ultimately, this chapter provides an example of how to fight the damaging narratives often told about writing center spaces and how writing centers can successfully cross (into) boundaries of student support.
---
Note: Use the left column links and bottom navigation bar to move through the webtext.