SECTION 3: CROSSING SPACES
Chapter 10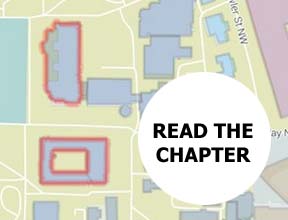 "From the Ground Up: Shaping Community, Collaboration, and Multiliteracies at Georgia Tech"
Rebecca E. Burnett, Karen Head, Brandy Ball Blake, Andy Frazee, Diane Jakacki, Chris Ritter, Nirmal Trivedi, and Christopher Weedman
This chapter discusses three dynamic spaces of the Writing and Communication Program at Georgia Institute of Technology (Georgia Tech): the Laptop Classroom in the Skiles Classroom Building, the Communication Center in the Clough Undergraduate Learning Commons, and the Stephen C. Hall Building.
The authors recount how these spaces were deliberately designed by and for them. They describe how they worked with designers, architects, interior designers, landscape architects, and information technology experts in the planning and design stages to match the physical spaces with the Writing and Communication Program's philosophy, pedagogy, and research practices.
This chapter focuses on physical and digital affordances that contribute to the Writing and Communication Program's core philosophies of rhetoric, process, and multimodality. It also offers implications and conclusions flexible enough for readers at a range of other institutional contexts to consider and apply.


Note: Users can navigate
---
this web text in two ways: either by starting with section 1.0 and following the links to the next sections, or by jumping to a section using the navigation menus at the top and bottom of each page.