PART 2: MODELING AND MAKING SPACE
Chapter 6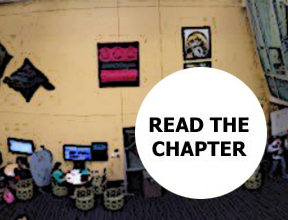 "A Space to Play, a Space to Compose: A Model for Creative Collaborations and Composition Practices"

Russell G. Carpenter and Shawn Apostel
This chapter situates the Noel Studio for Academic Creativity (Noel Studio) at Eastern Kentucky University as a new space for composition pedagogy. The authors explain how the Noel Studio design is intended to enhance the creativity of visitors by breaking from traditional writing space models and integrating areas to foster multimodal invention practices.
Using student interviews to explore the role space plays in the composing process, this chapter traces students as they move from room to room; from one form of technology to another; and as they research, brainstorm, collaborate, write, revise, seek feedback, and polish their communication projects in the Noel Studio. Through these student narratives, Carpenter and Apostel argue that the Noel Studio space enables creative expression that translates into stronger composition projects and more robust student experiences.

---
Note: Navigate this text by reading to the bottom of the page and selecting "next page" or by selecting from topics on the top menu.