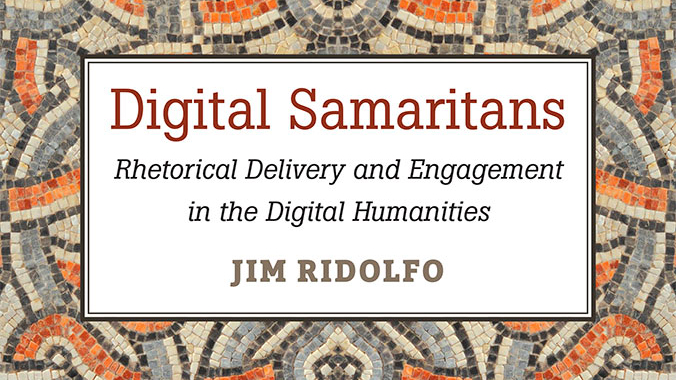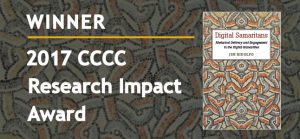 Buy this Book Free Online Version
Digital Samaritans explores rhetorical delivery and cultural sovereignty in the digital humanities. The exigence for the book is rooted in a practical digital humanities project based on the digitization of manuscripts in diaspora for the Samaritan community, the smallest religious/ethnic group of 770 Samaritans split between Mount Gerizim in the Palestinian Authority and in Holon, Israel. Based on interviews with members of the Samaritan community and archival research, Digital Samaritans explores what some Samaritans want from their diaspora of manuscripts, and how their rhetorical goals and objectives relate to the contemporary existential and rhetorical situation of the Samaritans as a living, breathing people.
How does the circulation of Samaritan manuscripts, especially in digital environments, relate to their rhetorical circumstances and future goals and objectives to communicate their unique cultural history and religious identity to their neighbors and the world? Digital Samaritans takes up these questions and more as it presents a case for collaboration and engaged scholarship situated at the intersection of rhetorical studies and the digital humanities.
"Digital Samaritans is a scholarly examination of the Samaritan version of the Torah as revealed through a close study of texts and oral history video interviews with those who claim Samaritan Studies as their life's work. Through the interviews, the Samaritans themselves reveal how the digitizing of Samaritan manuscripts can advance global knowledge about their existence and culture. Unsurprisingly, Jim Ridolfo and his research are far ahead of the rest of us in bringing together digital humanities, rhetorical studies, writing studies and the crafting of a research methodology that honors the past while looking to the future. Ridolfo is to be applauded for this outstanding twenty-first century historical and intellectual work."
—Gail Hawisher, University of Illinois, Urbana-Champaign
"The rhetorical figure of the Good Samaritan persists in contemporary culture, most notably in the familiar names of hospitals. But the history and culture of the Samaritans is so much more. In Digital Samaritans, Jim Ridolfo takes us on a fascinating journey during which a biblical parable becomes a symbol of a living, breathing people interested in extending themselves via the 'textual diaspora' created by a digital humanities project. Just as the culture of the Samaritans provides a bridge linking multiple peoples, Ridolfo argues, this case study provides incredible insight into the digital humanities and rhetorical studies, while also carrying wider implications for academic partnerships in the globally connected twenty-first century."
—Virginia Kuhn, University of Southern California
"An engrossing case study of the confluences of sacred rhetorics, digital humanities, cultural identities, global politics, and miraculous serendipity, Jim Ridolfo's pilgrimage Digital Samaritans illustrates the sheer enormity of the work we're called to do. With care, compassion, and concern, Ridolfo's experiences and reflections on Samaritan sovereignty, digital delivery and 'rhetorical diaspora' resonate and demonstrate the satisfying power of a scholarly adventure, yes, in the tradition of Richard Altick. Read and be challenged. Rhetoric's digital humanists can no longer live by words and bytes alone, but rather by everything that proceeds. Every historical raindrop. Every political fire. Every lost text. Every new font. Every heart. Every soul."
—Hugh Burns, Texas Woman's University
"Ridolfo does a masterful job describing a wide range of rhetorical practices around digital collections of Samaritan manuscripts. While documenting his own experiences digitizing holy scriptures that have been dispersed geographically around the world in an attempt to serve the needs of a vanishing population in the Middle East, he forges connections between currently disconnected domains of rhetorical studies, the digital humanities, and engaged scholarship. Ridolfo uses this fascinating case study to explore the complex custody issues that emerge when diasporic communities archive traditional knowledge in computational media and work across distributed online networks. This is compelling scholarship that cuts across many disciplines with a rich interpretation of what religious identity and cultural sovereignty might mean for all of us in the digital age."
—Elizabeth Losh, University of California, San Diego
"Jim Ridolfo's timely Digital Samaritans takes us through a 'clash of values' that characterizes Digital Humanities—the conflict between interpretive experts and communities who create texts. His contextually rich re-framing of the debate as both productive and rhetorical shows Digital Humanists a way out of the stalemate."
—Andrew Mara, North Dakota State University
Cover photograph © Jim Ridolfo
Jim Ridolfo is an Associate Professor of Writing, Rhetoric, and Digital Studies at the University of Kentucky.