Review by Crystal VanKooten
Panelists
Virginia Kuhn, University of Southern California
Jim Brown, University of Wisconsin-Madison
Liz Losh, University of California, San Diego
Vicki Callahan, University of Wisconsin-Milwaukee
Mary Hocks, Georgia State University
Aimee Knight, St. Joseph's University
Melanie Yergeau, University of Michigan
Craig Dietrich, University of Southern California
Viola Lasmana, University of Southern California
Jentery Sayers (moderator), University of Victoria
I sit in Tompkins 129 early Sunday morning, typing rapidly, sweating because it's so hot in the room and we're packed in like sardines.  The panelists pop up and down, setting off five-minute firecrackers in my brain.  In short, decisive bursts, they're attempting to hack into my laptop, my classroom, my pedagogy.  What follows represents the hacking that went on that day, peppered with my own questions and comments for the presenters sent via Twitter.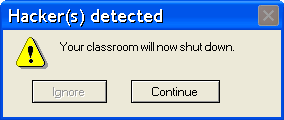 Images created by Crystal VanKooten at http://atom.smasher.org/error/ and are © Atom Smasher, Creative Commons BY SA
Crystal VanKooten is a Ph.D. candidate in the Joint Program in English and Education at the University of Michigan, where she teaches composition courses and researches new media writing.  Her dissertation study explores the potential link between audio-visual composing in the first-year writing classroom and the development of meta-awareness about composition.