Review by Douglas Eyman
The interactive installations session continues the effort to showcase projects that have more interactive or artistic elements that have been taking place at past C & W conferences. In 2009, the "Digital Art and Narratives Exhibit" organized by Jonathan Alexander and Jacqueline Rhodes featured multi-modal and multi-media installations that drew on the sense of "installation" as it is enacted in art galleries and public spaces; since then, the installations at C & W have shifted more toward the genre of the digital poster — in general developed along more academic than artistic approaches (and at the 2011 conference in Ann Arbor the sessions were listed as "New Media Poster/Installation" which highlights the shift toward a more poster presentation format).
The seven works presented at this year's conference were certainly more like posters than art projects (although that is not to say that artistic elements were not present in some of them). But as I viewed the varying presentations of pedagogical practice, projects that required innovative approaches to programming and interface design, and even a demo of an open source learning management system, I was struck by the fact that "installation" could also be read as a form of "install" — as in "installing software." So while the majority of the presentations here were more poster-like than artistic, they all did engage the act of installing at some level.
The installation session took place in the "Technology Sandbox" within the D. H. Hill Library. The sandbox is a bright, open space that houses a number of new presentation and large-scale touch screen technologies for faculty and students to experiment with. A few of the installations made use of some of these presentation approaches, and, although not part of the installations per se, some of the resident objects, such as the Microsoft Surfaces tabletop touch-screen system, also received quite a bit of attention. (The sandbox also provides gesture-based gaming consoles, but they were not in use during the installation sessions).
The installation session also featured "Howling Cow" ice cream (courtesy of NC State's creamery), which was universally proclaimed "very delicious" — and added an experiential mode (taste) that has not yet made its way into our presentations (but is a tradition that I hope will be continued … I'd approve of an installation the involved cookies and computers and writing, for instance).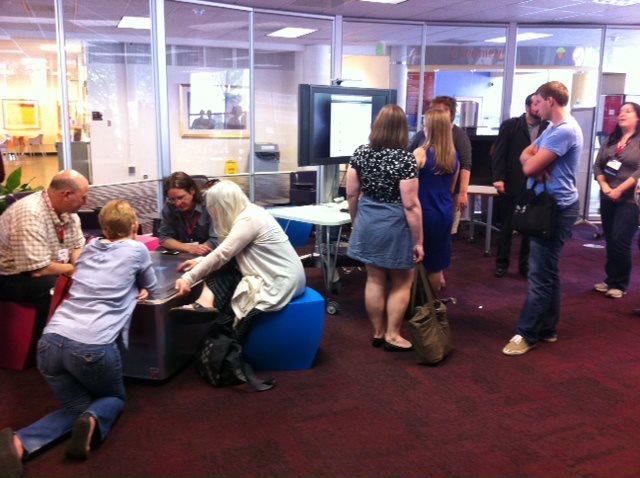 The presentations:
: )|:( Discursive Performance in Digitally Mediated Communication
by Rachael Hodder & Minh-Tam Nguyen, Michigan State University
ArchiSEXTture: Getting It On in Digital Dating Spaces
by Kevin Brock, North Carolina State University, Dawn Shepherd, Boise State University, & James Burka, Epocrates, Inc.
Collaborating in 140 Characters: Storify, Twitter, and FlashFiction in the Composition Classroom
by Shea Stuart, Gardner-Webb University
Open Professional Writing Preview
by Adam R. Pope, Purdue University
Providing the "Big Picture": Reusable Videos for Teaching the Back Stories of Information Creation, Discovery, and Use
by Kim Duckett & Anne Burke, North Carolina State University Libraries
Recreating bpNichol's "First Screening"
by Brent Simoneaux, Samara Mouvrey, & Fernanda Duarte, North Carolina State University
The ARchiTEXTure of Mobile World Browsers
by John Tinnell, University of Florida
Douglas Eyman is Senior Editor and Publisher of Kairos: A Journal of Rhetoric, Technology, and Pedagogy and Assistant Professor of Rhetoric and Writing at George Mason University.