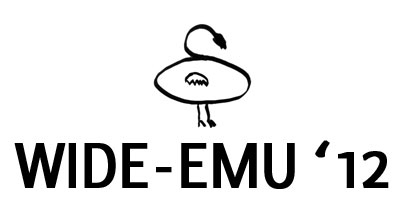 We're excited at the Digital Rhetoric Collaborative to be gearing up for WIDE-EMU next weekend (Oct 20) in E. Lansing.  The input we received at last year's unconference at EMU in Ypsi was crucial to the development of the DRC, and many of the features you see here today – from blog carnivals to resources to born digital book publication to the DRC wiki – owe their existence to these conversations.  You can read about our proposal for WIDE-EMU 2011 here.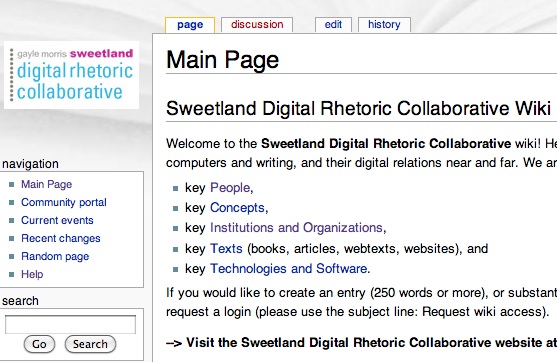 For WIDE-EMU 2012, we're focusing on the DRC Wiki with the aim of jumpstarting its development and really building it out between now and C&W 2013.  Here's what we're planning:
Teaching with the Sweetland Digital Rhetoric Collaborative Wiki
This is a combination Do/Make session in which participants will learn how to use the Digital Rhetoric Collaborative wiki on MediaWiki, share strategies for incorporating the wiki in their classes, and create some pages that they, their students, or other members of the DRC community can continue to build out.
We can imagine writing for the DRC wiki playing a role in grad and undergrad digital rhetoric and digital humanities classes of all types.
We hope participants will bring their ideas for wiki entries to create for our five wiki categories: People, Concepts, Institutions and Organizations, Texts, Technologies and Software.  So far People has three pages and Institutions and Organizations has the beginnings of one — so there's much work to be done, and many opportunities to make a mark!
One other dream of ours is that the WIDE-EMU 2012 session will be a place to kick off a Computers and Composition/digital rhetoric history writing project on the wiki.  What key events would you want to see in this timeline?
If you'll be in the area, we hope you can check out our session next week.  In any case, let us know your ideas for DRC wiki pages and C&C timeline events by leaving them in the comments.  Help us get some collaborative wiki-writing going for the DRC community!