Title: Hollow
Project Director: Elaine McMillion Sheldon
Release date: June 20, 2013
Website: http://www.hollowdocumentary.com [view using Google Chrome]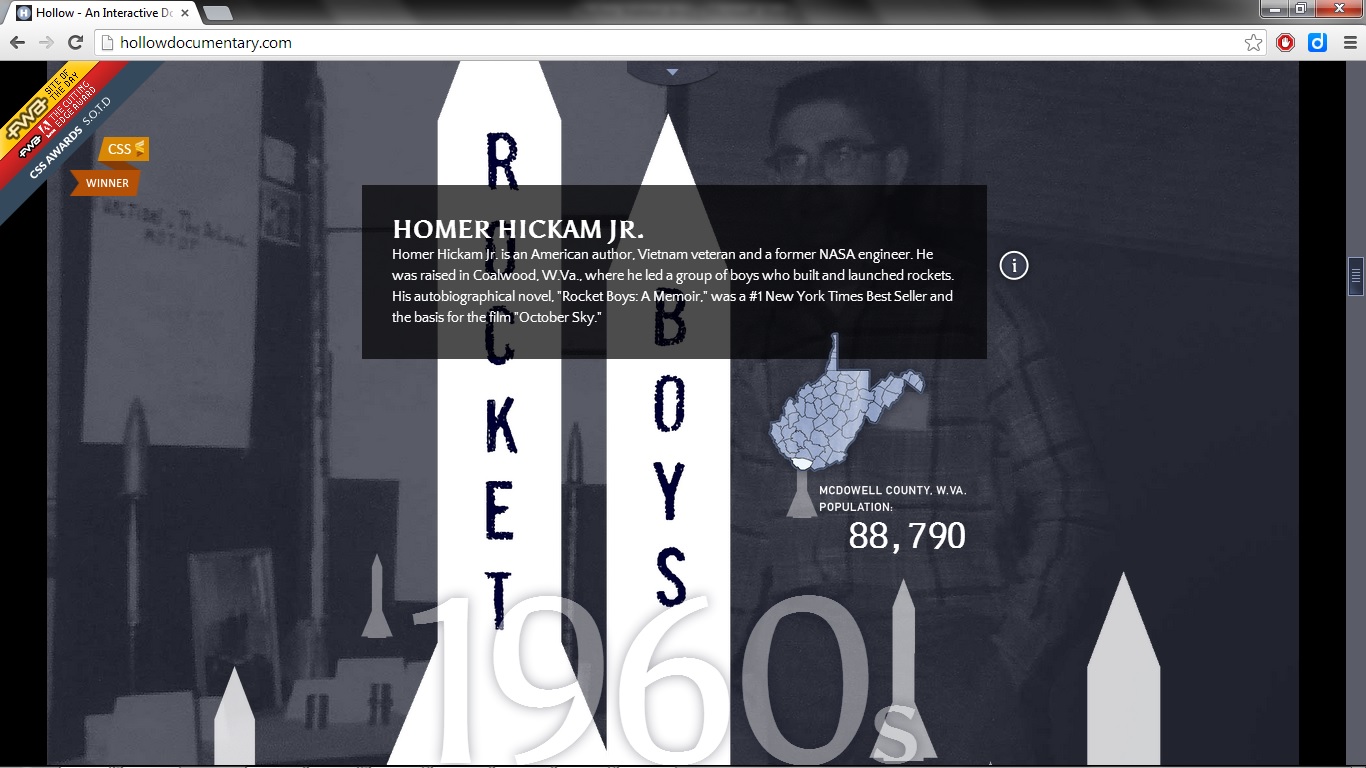 Hollow is an interactive, non-linear documentary about one county in southern West Virginia that has won accolades for its innovative storytelling.
Its non-linear interactive format is an example of transmedia, a mixture of video, still photography, data visualizations, maps (including aerial balloon mapping), and more. All these media interact to tell what Hollow says is the story of a "dying county," one where "more people leave than stay." Although Hollow focuses on McDowell County, West Virginia, and addresses tough topics such as unemployment, drug use, health issues, and mountaintop removal (MTR), Elaine McMillion Sheldon, Hollow's project director, says the documentary is representative of boom-and-bust economies elsewhere.
All told, Hollow has over four hours of documentary video on the website, collated from 7 terabytes of recorded footage. McMillion Sheldon's filming as well as video recorded by local residents tell the history of McDowell County, and the stories of 30 individuals now living there.
The user–"viewer" doesn't seem the right term–dynamically interacts with the documentary. After the initial launch page, users can engage in active navigation of the documentary by using the browser to scroll through the story and choosing what content they want to see: which videos to watch, which images to view, and what data to read. The documentary features a number of entry points on the website: "The Way It Was," "These Roots," "For Each Other," "For the Land," "When Coal was King," or "Around the Bend."
That's not all. Users aren't just consumers. They may also update information—for example, images uploaded into Instagram are dynamically loaded into Hollow. Users can also download certain data from Hollow, such as PDFs and songs from the documentary, for listening and reading beyond their interactive viewing of the documentary. The documentary site supports local residents uploading content to their own Hollow tool.
This innovative HTML5 project is data-rich with collages of images, text, data visualizations, and videos. Hollow expands its multimodal reach with atmospheric sounds of birds chirping, storms and floods, piano music, and even a performance of "The Wayfaring Stranger."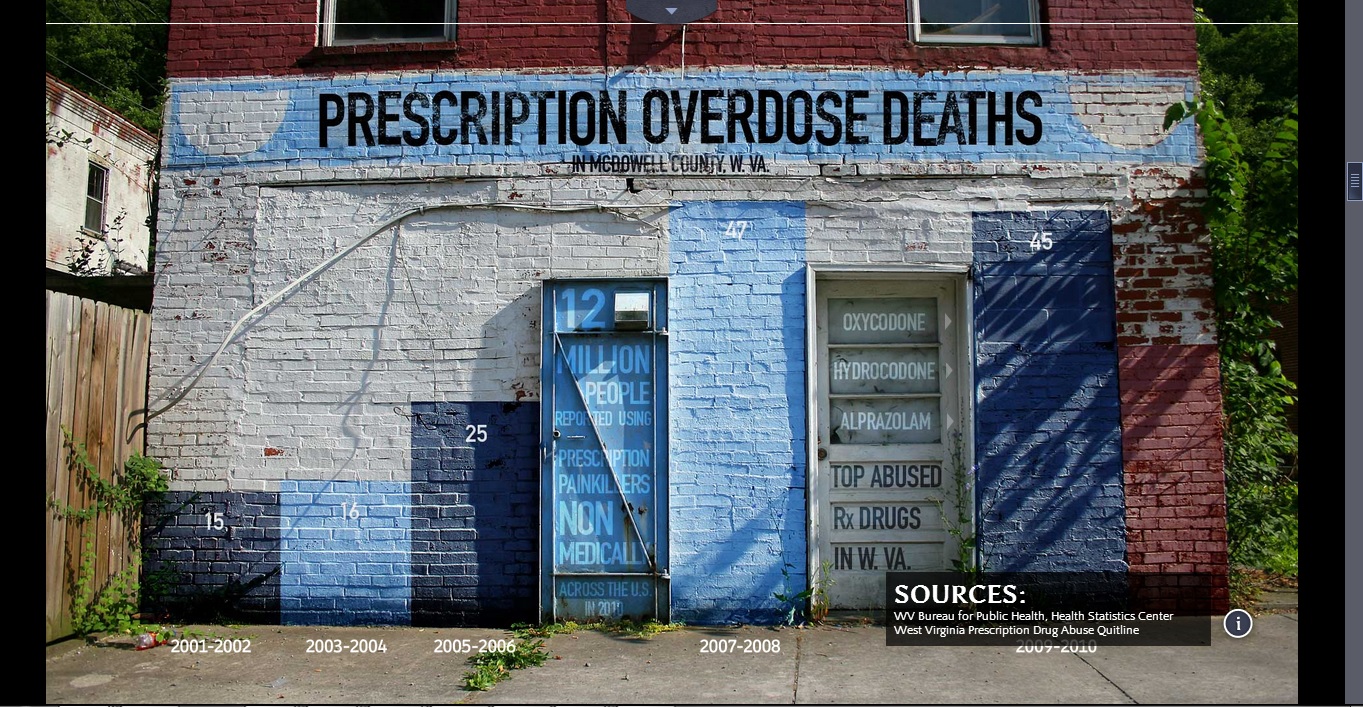 Choosing Transmedia
In December 2013, I spoke with Hollow project director Elaine McMillion Sheldon to talk about her transmedia project. Here's an abbreviated version of our conversation.
Q: Elaine, why make Hollow a transmedia story?
A: When I went to McDowell in 2011, I met so many different people in terms of varying viewpoints and ages. I felt kind of confined by linear film format for this project because I knew there was so much rich data out there. I knew there was a lot of interesting historical and archival footage. I wanted to bring a lot of stories in.
Most importantly, I wanted to include [the people there]in the process. I wanted to give these people a chance to say what they wanted to say, to tell their side of the story in this and be involved in creating it. So I felt like this interactive form allowed for us to tell an on-going story, just sort of foster a story that is more exploratory, that allows you to pick and choose what you want to experience, to feel like you're visiting the place.
A lot of documentaries have been made about Appalachia but they don't necessarily have the reach that I think they should. And we've been able to reach I think 159 countries now.
We felt that the transmedia interactive form gave us the opportunity to not only reach that audience but to allow the residents to continue to update their stories and work on initiatives through the tool that we built for them that deepens the cinematic experience.
So a number of reasons: we could include a lot of stories, include data, include maps, include all these interesting different offshoots of stories we saw, and also encourage dialogue between the user and the community, which has happened. Many residents have been able to connect with users of the site and have gotten funding through different organizations that have found out about it and watched the documentary.
Q: Isn't transmedia an interesting choice for telling a story about Appalachia, an area not usually associated with technology?
A: Yes, absolutely. I think it's so amazing to think–This is such an emerging genre and a lot of what we see are these interactive docs, different projects like this are focusing on typically more connected societies, more high tech-related things like music videos, younger generations. What's cool about this is . . . the people of McDowell, most of them didn't know what an interactive doc was before it launched. Now since it's launched, they can tell you more about interactive docs than I can!
But there's an extreme issue with it being a very heavy site, with over 4 gigs of footage, photos, and audio. So if you don't have a good connection, it's really hard to load. We acknowledge that in the very beginning and tried to figure out access points, things like that.
Making Stories like Hollow
Q: Do you have one or two top recommendations for students or teachers thinking about working with digital stories?
A: I wish that in the beginning I would have thought a little bit more about using less video and more audio and photos or text. It depends on what you're hosting the piece on but our server costs are $730 a month. And that's not sustainable. So I'd say for any independent makers who are going to make a larger product to really think about using different forms of media other than video because video's quite thick. Or finding a sponsor like a university that wants to put it on their server.
But for students and teachers I would say start playing with free tools that are out there before you invest in any platform or development or designs. There's Creativist, Zeega, and Klynt. So I would recommend students and teachers using those tools to test out if their story should be told in this interactive form before investing in it and finding out it would have been a better linear form.
Q: What else do you want people to know about this?
A: It was such much a team effort. I really want to give credit to the whole team who worked on it. If you go to hollowdocumentary.com there's a credits list [linked at the bottom of the page]. It was a huge undertaking with a really devoted team working behind it.
This was really a close collaboration between myself and the designer Jeff Soyk, who really is the mastermind behind the collage experience that you get. He took what I collected and designed this beautiful experience that allows you to sort of travel through the place. We did go through six designs. Jeff's big thing was making sure that our priorities were that the design always served our priorities: to create a sense of place. We would sit down and look at the content and map out how it was all going to flow and Jeff would write scripts for the user experience.
Teaching with Hollow
Q: You've heard from teachers—anthropology, journalism, economics, Appalachian studies—who are using your documentary in the classroom. What are some of the ways instructors are using Hollow?
A: English 101 teachers have used it for [talking about]writing an argument. They were having their students do research in getting both sides of the story, getting data, doing all this primary and secondary research, and they wanted to share Hollow as an example of how to present that research in a visual way.
The Appalachian Studies perspective looks at Hollow as a new way to portray Appalachia. In many ways, it's a love letter to the place I love.
Sociology: When I was in sociology classes, we always viewed Dancing Outlaw, which is the PBS documentary about Jesco White. We used that as a stereotypical representation to examine how West Virginia is looked at.
In economics classes, this is a perfect example of boom and bust, so relying on a mono-economy–if you want to see a mono-economy, you can look at Hollow.
Media classes and communications classes have been looking at the storytelling perspective in Hollow.
Q: What is the experience when you show the documentary in-person?
A: I stand up front and give a personal, interactive tour through the site and give the background of who this person is, where they are now, and showing portraits. Normally, I customize a walkthrough experience that lasts for an hour, an hour and fifteen. I went to Radford University and the program that sponsored us there was the Geospatial program and they wanted me to specifically focus on environmental issues. So I did an interactive experience that really targeted those stories that discussed that, then had a discussion around it.
I don't have a linear film version that you sit back and press play. We really didn't want to have that because we really wanted to encourage a dialogue rather than have people just sit back, watch, and leave. The screenings are quite interactive in that the community gets to input data into the data visualizations.
We customize each screening based on the topic of why we're there, more like a performance than a screening.
What's Next?
Q: Have you heard about your documentary inspiring other people?
A: That's been great! We've had more people than I ever expected come to us and ask us to make their story into a "Hollow story," one with scrolling storytelling. But I'm sort of against the idea that there's one platform and one way to tell all stories.
It was really nice seeing media coverage [resulting from Hollow]actually taking a look at McDowell through Hollow, and seeing these people who really care about the place.
Q: What's your next project?
A: I've just finished a The New York Times' Op-Doc about Seamus Heaney, the Irish poet. I'm in a lot of pre-production for projects that will be launching this summer. I keep getting asked what's the next interactive doc that you're going to do and really I don't think of myself as a platform-centered person.
Q: Thanks, Elaine for taking time to talk with us!