Hollow is a transmedia documentary that is our January Webtext of the Month.
We've included below a list of responses, reactions, discussions, and projects similar to Hollow. We hope this resource helps students, teachers, and designers plan digital storytelling projects or lessons, and to give audience members new ways to think about digital storytelling. Feel free to leave us a comment and share a link to a resource that adds to this conversation.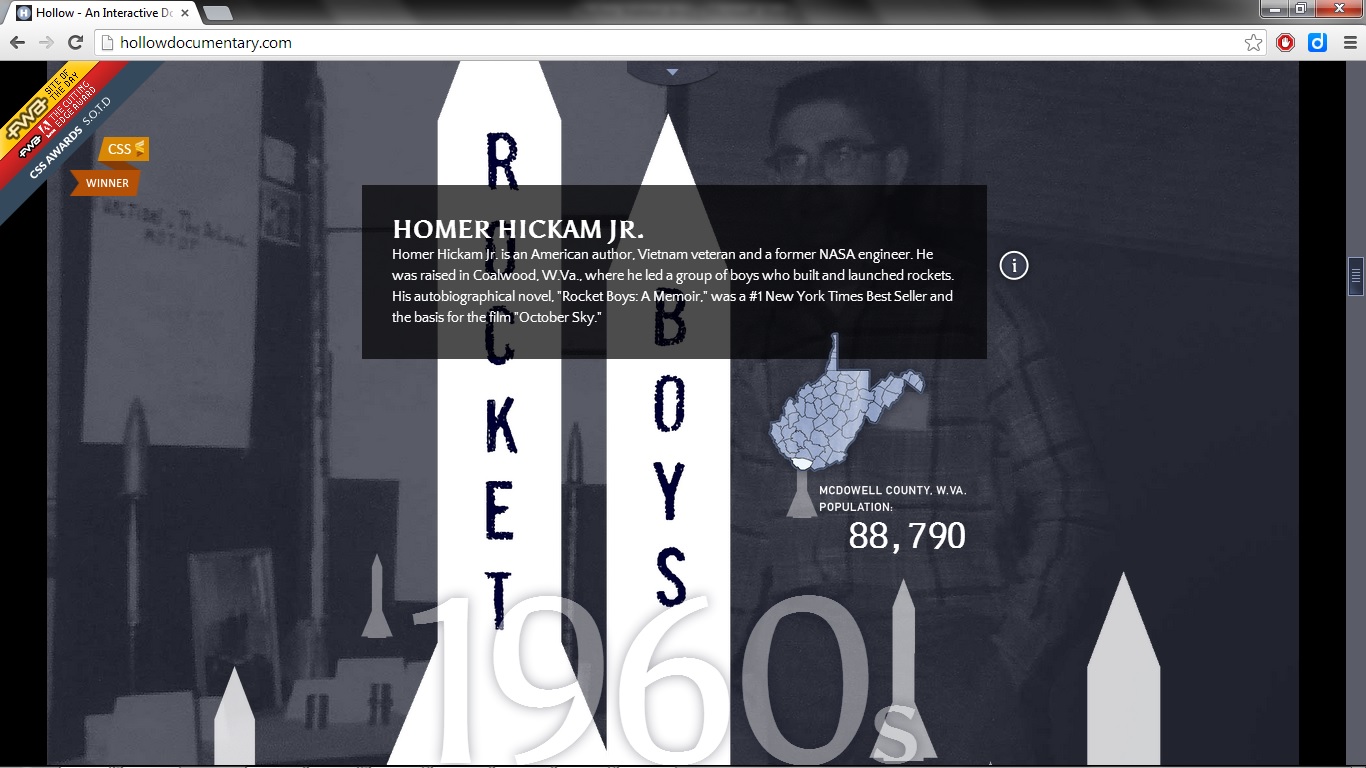 Recognition of Hollow
Just a few of the recognitions this innovative documentary has won include: FWA The Cutting Edge award, a recognition by Adobe of a project that highlights the newest capabilities of the modern web, CSS Design Award, recognizing web design, and a 2013 nomination for the International Documentary Film Festival Amsterdam (IDFA) DocLab award, which recognizes interactive documentaries and other new digital art forms. The IFP Conference selected Hollow as a case study.
Discussion of Hollow
"One Year of Scrollitelling" discusses Hollow and other projects, including "Snow Fall," our December Webtext of the Month
West Virginia-Based Documentary Site "Hollow" Has Launched, And It Is Magnificent, Huffington Post
Elaine McMillion and Jeff Soyk on Hollow, Filmmaker
"Hollow": The Next Step For Social Documentary? PBS
Framework, "Best of the Web," Los Angeles Times
Pre-Hollow Transmedia Stories
Highrise: Out My Window
Powering a Nation
Welcome to Pine Point
La Zone
Bear 71
Mapping Main Street
Farewell Comrades
Other Recent Scrolling Stories
NASA Prospect, NASA Prospect was created by student designers at the University of South Dakota in collaboration with NASA and the Humans in Space art program, with assistance from their professor, Collin Hover
The Lab, Alzheimer's Research/UK
The White House has used scrolling in this timeline
Flash vs. HTML5: Provides findings about these technologies and enables users to interact with the technologies by playing a game
Making Transmedia
Transmedia: The Birth of a New Art Form
[Infographic] Transmedia storytelling in 5 Steps, Media Hunter
How Do You End A Transmedia Project? Tribeca Film Institute
A New Mythology: The Internet is the Next Great Story by Robert Hall, Hollow lead coder
The New Digital Storytelling Series: Elaine McMillion, Filmmaker Magazine
"Makers of Interactive Documentary Hollow Discuss Lessons Learned" (with list of linked resources)—iDocs
Continuing the Conversation: Extending Hollow
The New York Times OP-DOCS feature: "West Virginia, Still Home" – Elaine McMillion Sheldon released a short remix of content from Hollow
Holler Home: "dedicated to the ongoing stories and efforts of community members in McDowell County, West Virginia," "a resource and community tool for residents as they work together and share updates on local initiatives, follow state-level government activity and continue to expand on their own personal stories," and "also serves as a place for story updates for visitors of the interactive experience" (http://hollerhome.hollowdocumentary.com/about-holler-home/)
Twitter: https://twitter.com/hollowthefilm
Please leave us a comment below about transmedia, scrolling stories, or HTML5/Flash technologies.