Title: Welcome to Pine Point
Author: The Goggles (Michael Simons and Paul Shoebridge)
Publisher:  National Film Board of Canada
Publication date: January 2011
Official Website: http://interactive.nfb.ca/#/pinepoint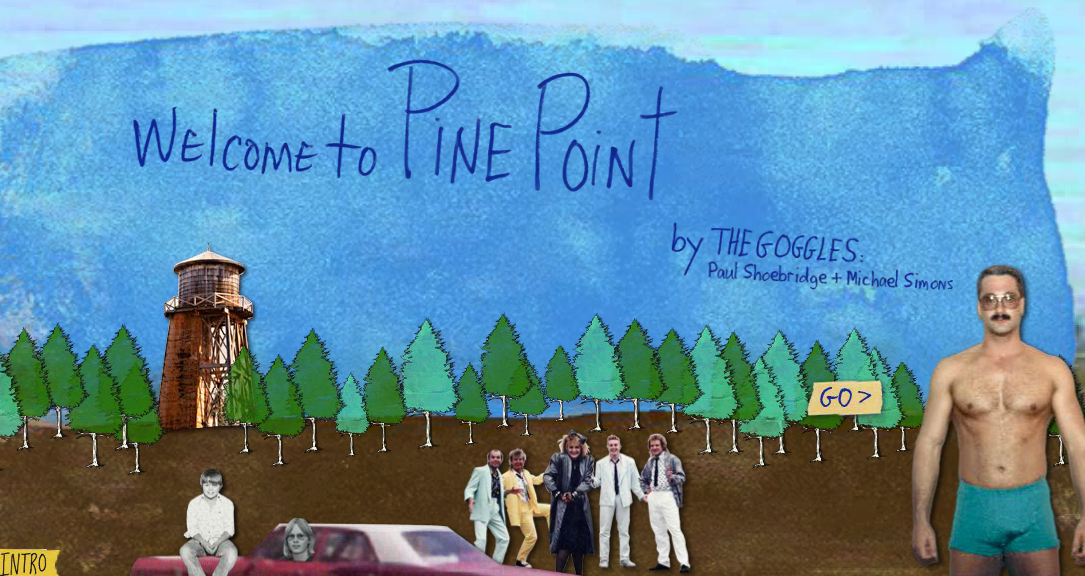 Although a little more than three years old, the interactive web documentary Welcome to Pine Point continues to offer an interesting experience for internet users to engage with story and multimedia. The Welcome to Pine Point project had originally been conceptualized by the Goggles (Michael Simons and Paul Shoebridge) as a book about, ironically, the decline of photo albums and print culture. What emerged, however, was a platform through which visual rhetoric and audience interactivity play as important a role as the alphabetic text of the story. Simons and Shoebridge provide photographs, animation, sound and music clips, video excerpts, and interviews about the town that no longer exists: Pine Point.
Originally established in the 1960s as a mining town, Pine Point lasted for only one generation to form, before eventually succumbing to economic forces. As Simons and Shoebridge, as well as the audience, explore Pine Point decades after its thriving moment, they coalesce personal storytelling and memory with nostalgia and the complexities and ramifications of economic change. As the documentary examines objects, time, and place, it includes four former residents and how they remember Pine Point, all of which are presented in a linear fashion. And while some might desire a non-linear narrative with more open interactivity for the audience, Welcome to Pine Point's strength mostly lies, as far as I see it, in its narrative form and visual presentation.
Related Resources
Review:  http://canadaisamusicmec.ca/2011/02/ciamm-presents-welcome-to-pine-point/
Interview with The Googles:  http://www.niemanstoryboard.org/2011/02/04/the-goggles-on-welcome-to-pine-point-digital-narrative-chases-memory-and-loss/
Blog post: http://museumtwo.blogspot.com/2011/03/welcome-to-pine-point-multimedia.html
Other Web Documentaries
Prison Valley (David Dufresne & Philippe Brault) http://prisonvalley.arte.tv/?lang=en
The Test Tube (David Suzuki)    http://testtube.nfb.ca/
HIGHRISE/Out My Window (Katerina Cizek) http://highrise.nfb.ca/