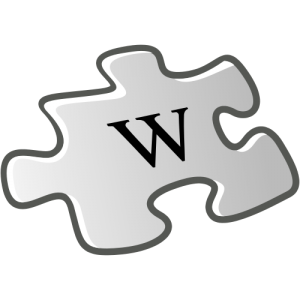 That's right! We're bringing Wiki Wednesdays back here at the DRC. This series, which got its start last April, aims to provide a regular space to discuss and celebrate the place of wikis in our field, and, most importantly, to encourage readers to edit our own wiki devoted to digital rhetorics. To accomplish this first goal, we're planning a number of special feature posts, including lesson plans for using wikis and Wikipedia in the classroom, guest interviews, and discussions.
Our second hope for Wiki Wednesdays is that we can motivate YOU to get involved with editing the DRC wiki.  We've written a lot in the past about how important this project is to us, and how it has the potential to become a great resource for scholars in digital rhetoric, computers and composition, rhet/comp and other related fields. But we need your help! Please consider this an invitation to help build the DRC wiki by becoming an editor. Whatever your level of expertise, you have something to contribute. It doesn't matter if you're just starting out in a graduate program or if you're a seasoned veteran. As they say in Wikipedia, "Be Bold!" Don't be afraid of making a mistake. That's the beauty of a wiki, someone can always come back and re-work your material.
Here are some contribution ideas to get you started.
Add needed entries on topics such as Jason Palmeri's Remixing Composition or another book, article, journal or website in the Key Texts section.
Add a website or student example to the Teaching Resources section. This could be a link and a short description: an easy way to start contributing and sharing some of your favorite go-to resources for teaching!
Add a description of a digital tool you use in your teaching to the Technologies and Software section.
Add a reference or additional source to an existing entry.
Interested? Check out the the step-by-step instructions below to get registered and get editing. Good luck!
BECOME A DRC WIKI EDITOR
Email DigitalRhetoricCollaborative@umich.edu to request a login, and use the subject line: Request DRC Wiki access.  We will add you to the wiki editors user group, and send you a confirmation, at which point you can go to step 2, below.
You will receive a confirmation that you have been added to the DRC wiki editors group and instructions on creating a UM Friend account. Follow those instructions.
Once you see a screen confirming that your UM Friend account has been created, you can use your Friend account login to access the DRC Wiki by clicking the wiki's "login with CoSign" and entering your Friend account and password.
After logging in to the wiki, check out the Help link for instructions about how to get started as well as the naming conventions for your entry. To begin making your contributions to the wiki, click the "Edit" tab.