Title: The Lord of the Rings Project
Author: Emil Johansson
Publication Date: January 2012
Official Website: http://lotrproject.com/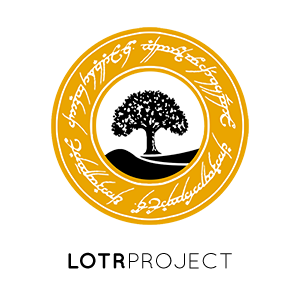 When I was first approached to contribute to this Webtext Madness, I knew I wanted to do something Alt.Ac., and I knew right away what I wanted to show off:
I admit it. I'm a huge nerd above and beyond many people I know, and I grew up reading Tolkien. In fact, I'm pretty sure The Hobbit was the first "real" book I read on my own as a kid. I've always been a huge fan — I've read The Silmarillion, The Book of Lost Tales, Children of Hurin — you name it! Tolkien fans have been a presence on the web since its inception, as far as I can tell, with fan sites, wikis, and all the rest.
So when my friend first sent me the link for The LotR Project, I admit my expectations weren't super high. But wow.
I think the reason Johansson's webtext impresses me is not just because of the presentation of the information but also because of its breadth and depth. Don't get me wrong – having a full wiki-integrated genealogy of Tolkien's Legendarium is super impressive! But I really love the way Johansson has derived data out of Tolkien's work and given us a new way to think about the texts.
I certainly don't think of myself as a statistics or "big data" guy by any stretch, but I think there's something really compelling about converting literature to data then back into interpretations. Let's be honest: It really says something that only 18% of the 900+ characters Tolkien describes are female, and only ONE of them is a dwarf!
Outside of that, Johansson's data mash-ups, the geospatial timeline in particular, are fun and cool and give us a fresh way to imagine the events across both time and space. And if so much can be done with a fictional world, imagine what students could do with the real world!
Related Resources:
Brian Croxall's "The American Century" geospatial timeline
Emil Johansson speaking at TEDxGotenborg
 A dissenting voice from Stephen Marche, "Literature is not data"