Text: Serial
Host: Sarah Koenig
Executive Producer: Julie Snyder
Producer: Dana Chivvis
Publication dates: First released in October 2014, aired weekly on Thursday mornings
Website: http://serialpodcast.org/
Podcasts: Available on iTunes, other audio platforms, and on Serial's website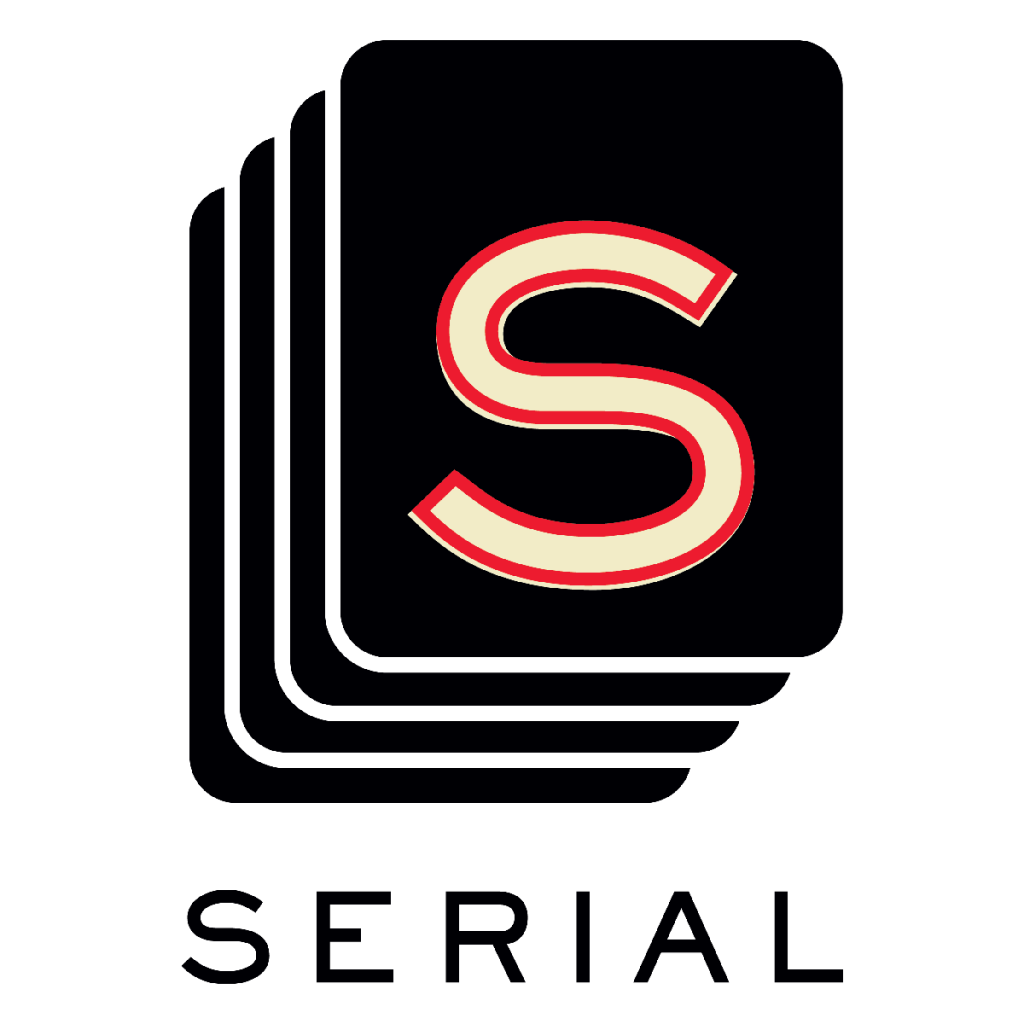 This month, we're thrilled to feature Serial as our webtext of the month. Serial is a spin-off of NPR's This American Life. The show tackles one true story, week by week, for twelve weeks. For its first season, Serial investigated the fifteen-year-old case of Adnan Syed and Hae Min Lee, a pair of teenagers in Baltimore at the time. Adnan was found guilty of murder for Hae Min's death and sentenced to life in jail. Koenig's reporting reveals the complexity and ambiguity underlying what on the surface might appear to be a high-school romance gone wrong. You can read a full synopsis, as well as summaries for each of the twelve episodes, on Serial's website.
Here at the DRC, we're looking at Serial as not just a series of 12 podcasts (that you may have listened to week by week or binge-listened to in a single weekend), but as the whole project, which features a wide variety of media and content:
a dozen episodes
related blog posts
maps
documents
music
and meta-commentary about Serial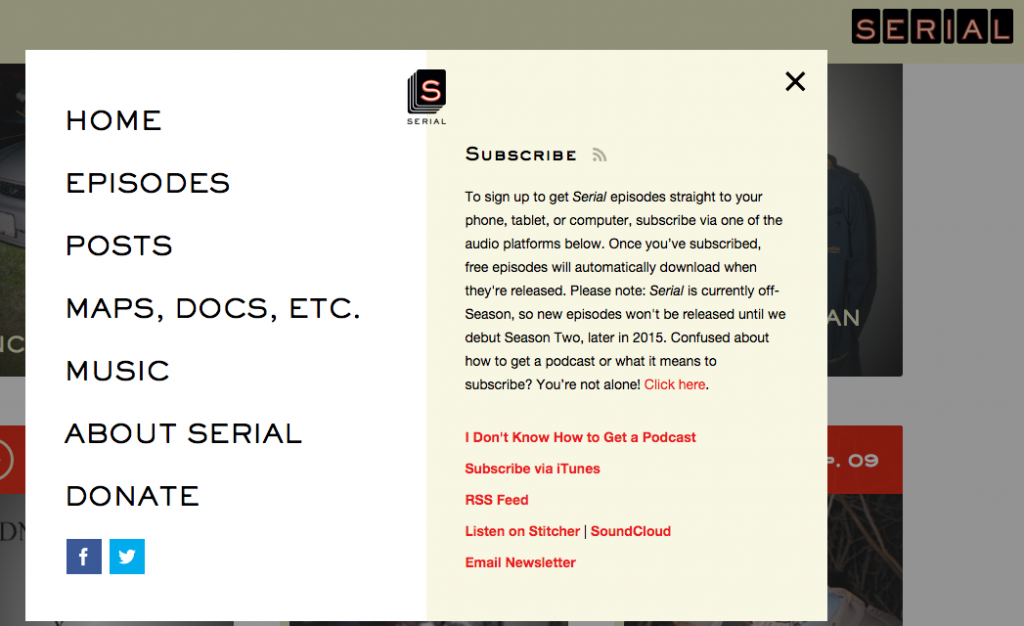 As a comprehensive multimodal project, Serial pairs serialized audio storytelling with a set of visual and text-based resources. In doing so, the show extends the story beyond the occasion of its telling and allows listeners to engage with the methods of its production and additional modes of presentation. We can hear Koenig discuss the timeline of the case and then go to the website to see the timeline for ourselves. For me, this blend of media and modes enhances the immersive quality of Serial, as we are invited to listen to Koenig's account and commentary and then investigate evidence and details for ourselves.
I'll admit: I was immediately captivated by Serial. From the first chords, the first MailChimp ad, the first time I heard Sarah Koenig's voice, I was hooked. I'm not exaggerating. I started listening in the car on the way home from visiting family over Christmas vacation, and I put everything on hold until I finished the season (my dissertation, my kids, etc.). Though I found the story compelling in itself–a murder mystery full of twists, turns, unknowns, and high school drama–what really got me was the telling.
First, there's the serialization of drama, which Netflix has made me crave and which recalls Charles Dickens, the master of seriality.
Then there's the delightful blend of communication modes and content: technical descriptions, personal anecdotes, dialogue, detailed forensic reports, legal situations, socio-cultural analyses, and hypothetical musings.
And finally, my favorite part of Serial: the way the entire season remains steeped in ambiguity. Ira Glass may have come in early on to share his idea for an ending with Koenig, Julie Snyder, and Dana Chivvis: "He came in and more or less said, 'So I think it would be great if you guys, like, solved it'" (see NPR's interview with Koenig). But story-wise, how simple and tidy and expected would that have been? As it plays out, we never get to The End. The season just ends, which seems entirely appropriate given how it starts. Koenig opens the show with a discussion of memory and truth and how uncertain our knowledge of past experiences and reality can be. Throughout the season, Koenig confesses, "I just don't know," over and over again. She asks, "Do you know what I mean?" and I do. I was right there with her.
For me, here's what it comes down to: An awful thing happened in Baltimore, a decade and a half ago. Serial lets us revisit that tragedy and inhabit its turmoil, its multifaceted complexity, its terror, its questions. As a series of podcasts and a set of related web-based media, Serial presents a form that stretches tension across time and space and cultivates an air of ambiguity that envelopes the whole project, from production to reception. In turn, this air forces us, the listeners/webtext interactors, looking out into the unknowable future, to consider truth and lies, experience and memory, fact and fiction anew, all awash with ambiguity, all gray.
Now, I go about my days, post-Serial, wondering about the limits of knowledge and what it means to know, marveling at how fluid and deeply contingent every last aspect of life is.
But and of course and also more practically – 
As a writer, I wonder what I can learn about storytelling from Serial. As a teacher, I wonder what my writing students might learn from the project–by listening to it, analyzing it, modeling it, responding to it, etc. Serial is on the list of texts and webtexts (along with "Snow Fall" and "What's in a Name?") that have inspired me to reflect and reconsider the work I do on the page and in the classroom. It makes me question and question and question. I love when that happens.
In addition to the content developed by Serial's incredible production team, the project has stretched its tendrils across the web and airways. You can join in the conversation on the Serial subreddit. Have a whodunnit theory? Wonder about a loose end? Want to debate the call log? This is the place for you! What's more, the buzz on the street about Serial is wide-spread. We've curated a selection of reviews to give you an ear-full of the chatter:
"'Serial' Podcast Finale: A Desire for 'Eureka' as the Digging Ends," by Dwight Garner, NY Times. Read more.
"'Serial'": The Podcast We've Been Waiting For," by Sarah Larson, The New Yorker. Read more.
"Serial Host Sarah Koenig Says She Set Out To Report, Not Exonerate," an interview with Sarah Koenig on NPR. Read more.
In short, it has become a phenomenon, with the accolades to boot:
"hottest podcast ever"
"2.2 million listeners per episode"
-Logan Whiteside, CNN Money
"the most significant moment in audio since the 'War of the Worlds' broadcast"
-Rob Walker, Yahoo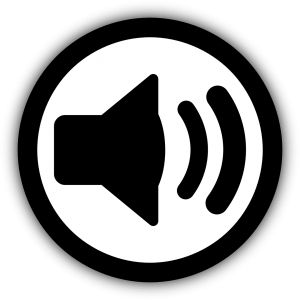 Below, I've included a selection of resources on storytelling according to Serial and teaching with Serial. I invite you to add other resources to this list, as well. Leave a comment, tweet at us, or send me an email.
–Lindsey Harding
"Why I'm teaching Serial instead of Shakespeare," by Michael Godsey, Quartz. Read more.
"A Simple Guide to Teaching "Serial" in high school," by Michael Godsey, The Skeptical Pioneer. Read more.
"To Download or Not to Download," by Matt Collette, Slate. Read more.
"Three (Common Core) Justifications for Binge Listening To Serial," by Jessica Keigan, Center for Teaching Quality. Read more.
"What I Learned About Teaching from Listening to Serial," by Ricky Alcantar, Medium. Read more.
Conversations on the Serial Podcast, by Peter Rorabaugh, All is Telling. Read and listen to more.