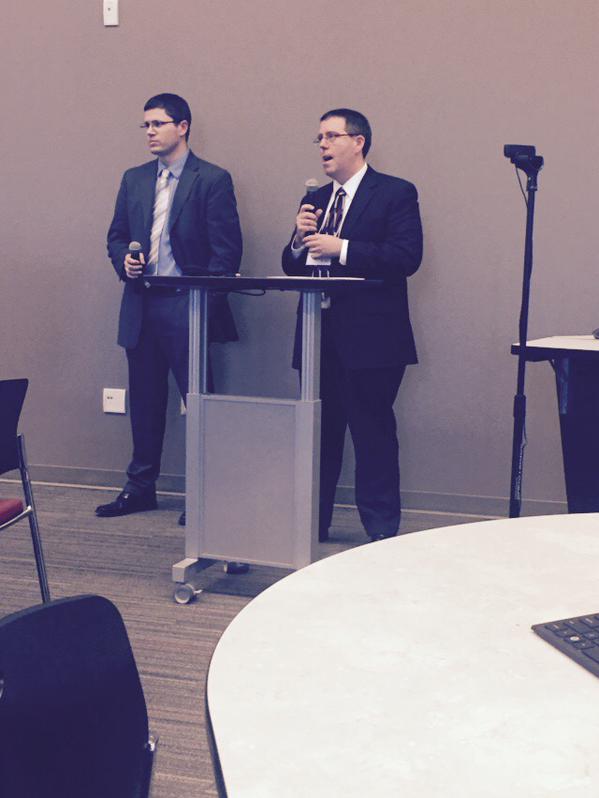 DRC's Hack & Yack series is excited to welcome back guest contributors Justin Hodgson and Scot Barnett, co-coordinators of the Indiana Digital Rhetoric Symposium. This is the second in a 2-part series dedicated to IDRS. In this post, Hodgson and Barnett, co-coordinators of the conference, reflect back on the event in order to discuss impact and significance. As part of this series, the DRC is also publishing reviews of individual IDRS panels and presentations as we receive them. Check out reviews by Crystal Vankooten, Estee Beck, Kevin Brock, and Andrew Iliadis, or just stay tuned to the IDRS feed for upcoming review contributions. 
Post-IDRS15: Seeking What is Rhetorical in Digital Rhetoric
As part of our Hack & Yack contribution prior to the Indiana Digital Rhetoric Symposium, we agreed to do a post-event reflection on the symposium as well–looking at its impact, what we learned, what we accomplished, and the like. Going in, we had some shared orientations toward our understandings of digital rhetoric, but we really weren't quite sure what to expect. And, in truth, the invited presenters wasted no time messing up (in the best ways possible) the few orientations we possessed. The lines and contours we thought might stabilize over the weekend quickly vaporized. From the overt commitment to the human condition to the unnecessity of the DH/DR distinction, what we encountered from our presenters were a range of theoretically adept perspectives that asked us to question our own assumptions as much as to consider the directions being opened before us. Liz Losh set the stage with the importance of fieldwork for digital rhetoricians (among other things), Crystal VanKooten exposed us all to our own research methodologies and identities at the beginning of our first full day of sessions, and Jim Brown pointed out that the DH/DR conversation was not where we needed to devote our energies. Then, Dave Rieder turned Nathaniel Rivers into Kinect data and Byron Hawk left us thinking about gestural ecologies and the performance-dimension connected to digital rhetoric (particularly sound rhetorics). By the end of the first day, I think most in the audience felt the way we did: we somehow knew vastly more and yet vastly less about digital rhetoric. Even our sense of the digital was bending in interesting ways.
Our last day took a decidedly cultural and civic turn, with Kristin Arola asking us to consider the space of cultural rhetorics, Angela Aguayo exploring the value of digital technologies in relation to civic and cultural engagement, and Matt Demers showing us how digitally-oriented methodologies can lead to architectural projects of a civic nature. The last day also featured presentations and discussions about textual circulation and remediation (Kathleen Blake Yancey and Caddie Alford) as well new media literacies/electracies (Jon Wargo and Sarah Arroyo) and locative and embodied media (Nathaniel Rivers and Anne Wysocki). The final moment of the symposium concluded with a closing keynote by Collin Gifford Brooke, who asked us to think more about the connections between virality and rhetoric in the digital age. If, at the end of the first day, many of us felt energized and overwhelmed by the scope of inquiry that flies under the banner of digital rhetoric, by the end of the second day many who we spoke with felt an even greater appreciation for what digital rhetoric can mean, and what it can do for us, in the academy and beyond.
On Thursday evening, we offered the following question as both a rationale for the IDRS as well as touchstone for the conversations to come: What is rhetorical about digital rhetoric? While this question was not always as explicitly present as we initially imagined, each of the presentations and keynotes at the IDRS offered some preliminary answers to this question. Like rhetoric in the classical sense, digital rhetoricians (at least those present at the IDRS) see rhetoric as both a theory and an art of making and teaching. This is in excellent keeping with long-standing conceptions of rhetoric from antiquity to the present. For ancient rhetoricians, to study rhetoric was to learn specific concepts and strategies for persuasion as well to perform those lessons through speech. As Jeffrey Walker argues in The Genuine Teachers of this Art, for ancients, "criticism and theory are distinctly 'rhetorical' insofar as they observe 'rhetorical objects' and critique practices and articulate general principles that are relevant to the process of training a rhetor" (3). Though at times we have tended to emphasize one arm over the other (certainly, this was the case at the IDRS where, at times, theoretical questions took priority and at other times pedagogical and performative issues), Walker reminds us that rhetoric is at its best–is its most rhetorical, we might say–when its theoretical and pedagogical arms are closely connected and mutually reinforced. As we reflect back on the amazing presentations and conversations we had during the IDRS, we can see how participants' engagements with the symposium theme–Perspectives and Definitions of Digital Rhetoric–served to collectively articulate a distinctly rhetorical inflection for digital rhetoric, one that embraces the best of what rhetoric and rhetorical education have to offer.