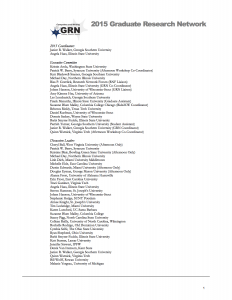 There's a temptation to identify Janice Walker as the heart and soul of the Computers & Writing Graduate Research Network (GRN), but I'm almost positive that she would deny any such claim and shift that role to the graduate students and volunteer mentors who facilitate table discussions. She would also point out that she shares the chairing responsibility with Angela Haas and has a strong planning committee. That said, as a first time GRN attendee, I saw much of Walker's joie de vivre and esprit de corps in the way the GRN was implemented during the day-long experience. Walking into the ballrooms Thursday morning, seeing table numbers and wondering how I figured out which table I was assigned to, my look of confusion (desperation?) attracted the attention of one of the organizers who took pity, asked my name, found my table number, and sent me on my more assured way. I found myself at the table facilitated by a favorite (former) Old Dominion University professor and mentor, Shelley Rodrigo and Stephanie Hedge from SUNY Potsdam. At the table were three graduate students including myself and Marcia Bost, who was the maker of scarves and other apparel auctioned off as a fundraiser and who came to ask advice about getting started writing and designing a game.
Three graduate students and two hours for facilitated discussion and advice meant we each received nearly 45 minutes to talk about our projects, discuss possible approaches, ask questions, and receive advice directly from published and well-known scholars in our field. Our conversations were not directed by the discussion leaders; instead, they were initiated by our own projects, our own directions, our ideas, and the focused, targeted suggestions that emerged from that discussion. Ultimately, this meant that we graduate students received the kind of targeted, personal mentoring we often receive only from an advisor — and we received it from seasoned scholars and peers. I received suggestions for readings, critical approaches, theoretical frameworks, and related concepts and ideas. The morning round table discussions yielded fruitful avenues for my focus and confirmed that I'm exploring a topic that has utility and meaning in the field.
After lunch, Walker and Haas led what appeared to be an annual event, a trivia contest with prizes galore in which everyone was a winner and no one left empty handed. We had cheat sheets, and cheating didn't really mean anything because everyone won something, and many won several somethings. Ultimately, it was just a fun way to bring everyone back together and start the second half of the GRN, which consisted of a job search workshop and roundtable sessions facilitated by Quinn Warnock and Patrick Barry. Round table topics included organization and time management, publishing as a graduate student (two tables there), preparing for the campus visit and "job talk," navigating a multidisciplinary job search, and more. These round tables featured many of the same imminent scholars who facilitated the morning discussions, giving us all opportunities to speak with luminaries like Nick Carbone, Karen Lunsford, Cynthia Selfe, Dickie Selfe, Doug Eyman, Traci Gardner and more. We spent 20 minutes at each table (and more if we wanted), giving us a chance to address several areas for advice, from ways to get published to developing our teaching portfolio.
What GRN offers is a quick, painless introduction for first time attendees to the Computers & Writing community, which is already close-knit and warmly welcoming. It's a rare opportunity to share works in progress and get useful, targeted, and considered feedback and mentoring from experienced scholars with decades of experience in the field of computers and writing. While it's probably a little overwhelming for undergraduate students, I would recommend the GRN to graduate students seeking input at any stage of a research project. In my case, I had not started focused research in my topic, yet the respondents and other graduate participants offered me useful ways to get started with my research. I would also encourage experienced scholars to share their own works in progress as a way to mentor graduate students and demonstrate that everyone benefits from the sharing of ideas in an open forum like this.
And did I mention that it's free? And that breakfast and lunch were provided for GRN attendees? Mentoring, advice, and food. That's a winning combination for any graduate student (or hungry scholar). Get ready for the C&W 2016 GRN at St. John Fisher College, May 19!