"What Is Code?" by Paul Ford is our July 2015 Webtext of the Month.
What follows is a list and selection of responses, reactions, and discussions pertaining to "What Is Code?" for students, teachers, and designers to think about digital journalism. Feel free to leave us a comment and share a link to a resource that adds to this conversation.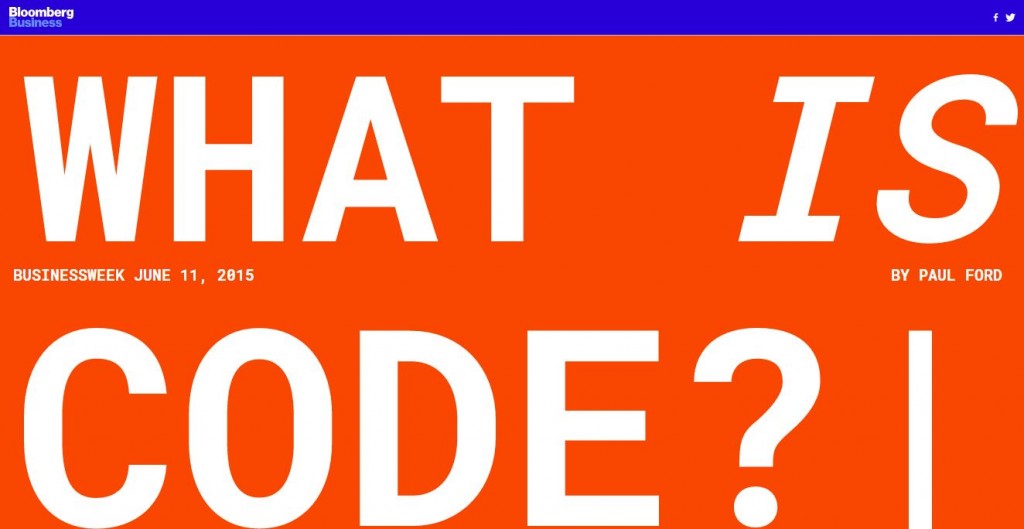 The article is the longest single story the Bloomberg Businessweek magazine has published, 72 print pages of words and code, and 38,000 words and about 100 graphics online.
"Bloomberg Businessweek Releases The Code Issue Special Multi-platform Package on Demystifying Code", June 11, 2015:
The cover of the Bloomberg Businessweek print issue (dated June 15 – 28, 2015, and on newsstands June 12) is written in the programming language Python 3 and instructs "If You Can't Read This, You'd Better Read This – Code: An Essay." Ford's essay appears over 72 pages of the 112-page print issue, and is the longest story ever published in the magazine.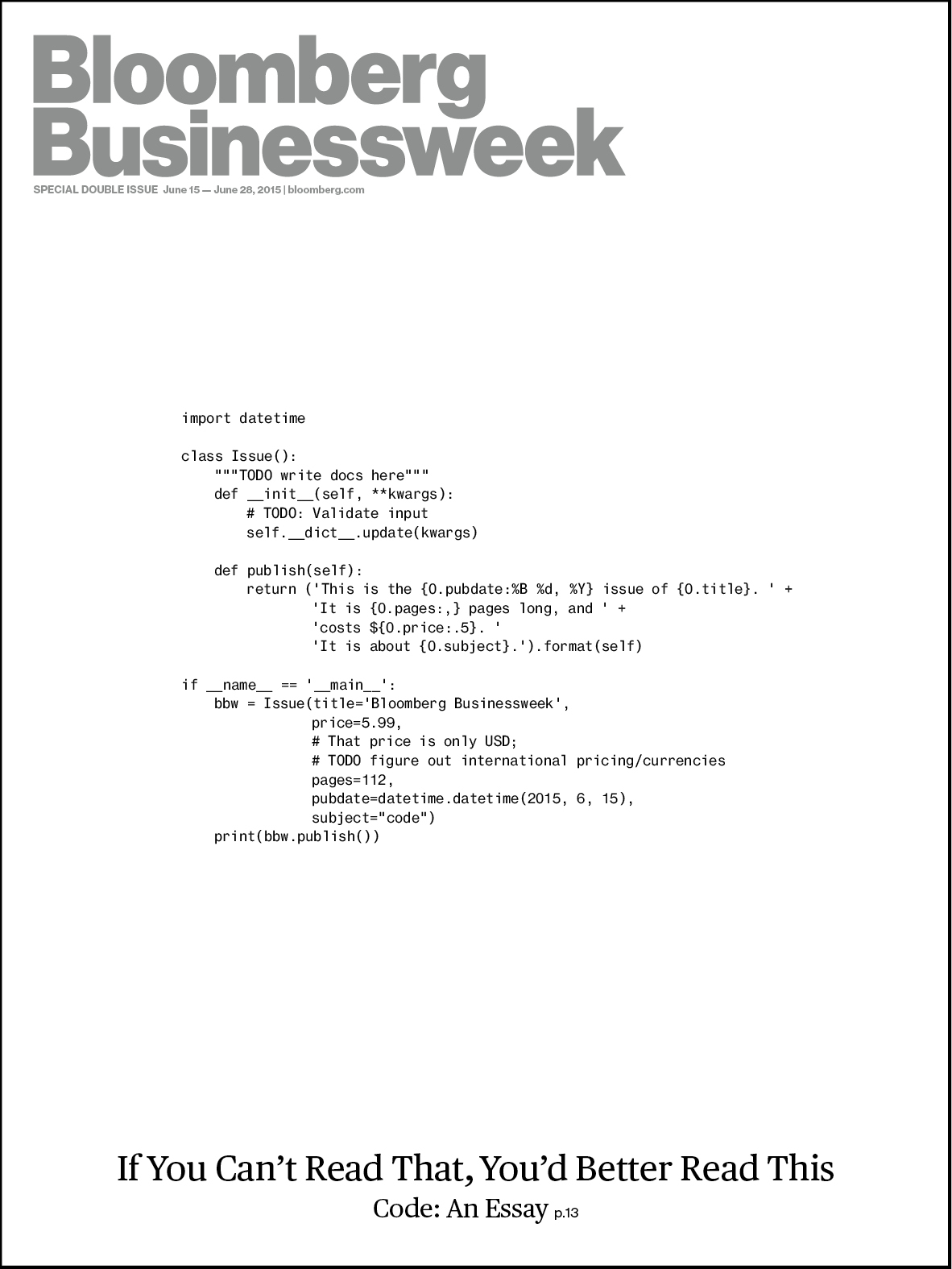 An interview with Paul Ford about the making of and reaction to "What is Code?":
What Is Code?: A Q&A With Writer and Programmer Paul Ford by Ashley Feinberg; June 12, 2015:
Q: I read in one of your notes that this all really started as a short article and grew from there.

Ford: Oh yeah, it was ridiculous. It was like a game of chicken. It all really started over a year ago, and I just avoided dealing with it for six months or so. Just total procrastination, hid from the problem, didn't answer emails, and then he was like, "Maaaybe it's time now." And then he started to troll me on Twitter.
"I think it's hard for people who see my name on it, and realize it's one big essay, to not really perceive that about 50 people actually worked on this."
Reactions to "What is Code?":
"What I learned by reading Businessweek's incredible 38,000-word article on code" by Matt Rosoff, June 14, 2015:
I read the whole thing online this afternoon, and it's remarkable. I could see it being taught in journalism classes years from now, like Gay Talese's "Frank Sinatra Has a Cold" or John Hersey's "Hiroshima."
"What Is 'What Is Code?'" by Clinton Nguyen, June 12, 2015:
Ford's piece started out as a 2,000-, then 4,000-word piece. It grew much longer from there, demanding the efforts of a team of editors, graphic artists and web developers to make it what it is now: An interactive primer that not only teaches how computers process code, but commits code as part of its narrative.
"There were some wild early ideas I was into—The article would be an API! You'd read it by debugging it!"— Toph Tucker, a Bloomberg developer who worked on "What is Code?"
"I started the outline as a FAQ," Ford told me, "Then on the draft I'd just release all the questions and pretend this was supposed to be the narrative flow after all."
An article with interview of Editor Josh Tyrangiel about the making of and reaction to "What is Code?":
"Bloomberg's 'What Is Code' Feature Was A Massive Hit — Here's Why" by Gabriel Arana, July 7, 2015:
On newsstands, the deep dive has sold more copies than any other issue to date this year, a Bloomberg Businessweek spokeswoman told HuffPost.
….
In the three weeks since the online version of the story went live, it has generated more traffic than any other article since the launch of Bloomberg's business site, according to the spokeswoman.
The pushback has been strongest from the software community, which has taken exception to the piece's various omissions — one observer pointed out, for instance, that the piece barely mentions software security.
As a publication that has both a print and an online component, Bloomberg Businessweek also avoided a common pitfall. Often, long magazine pieces are simply posted online in all their text-heavy glory, but in this case editors on the print side worked in tandem with the digital team for months in advance, holding joint meetings to discuss how the work would live online.
"A massive treatise on computer code goes viral" by Rem Rieder, July 8, 2015:
I'm not sure this sounds like a recipe for clickbait in a world where celebrities, silliness and sleaze often dominate.

Let's write a story about computer code and how computers work. Let's do it long form. And not just kind of long form. Seriously long form. Let's do a piece that in effect decodes an entire civilization. Oh, and if it's 38,000 words, no problem.
I'm a long form guy. I once read a 22,000-word profile of Yahoo CEO Marissa Meyer on a phone. (My colleague Roger Yu is not the only person to suggest that this was a desperate cry for help.) Yet even I found the length of What Is Code? daunting. At the same time, I totally applaud the bold effort to tell the entire story. Apparently I'm not alone.

And to answer your question: What did What Is Code? displace as the site's all-time champion? It was the April 27 ditty, The Best and Worst Fonts to Use on Your Résumé.
An interview of Editor Josh Tyrangiel regarding "What is Code?":
"Bloomberg Businessweek's latest issue is devoted to code" by Kristen Hare, June 11, 2015:
"Software has been with us for decades now, and it's always been considered something made and understood by mystifying geniuses for the eventual consumption of a mass audience. But we've reached a point where software — and the code underlying it — is in our pockets, our cars, our homes, etc. We interact with it constantly and almost every company has a product that relies on code. So ignorance of how it works and how it's made just isn't an option anymore. If you don't get it, or don't at least try to get it, you're going to be left behind." – Josh Tyrangiel
"The piece took 18 months from commission to publication, and I did have to troll him a fair amount on social media when he would get behind on deadlines. (It's a surprisingly effective tactic, btw.) But it must be said: He was a total joy to work with." – Josh Tyrangiel
Discussing Classroom Assignment Possibilities for "What is Code?":
#worthassigning: Paul Ford's What is Code? by Nick Carbone, June 19, 2015:
The piece is worth assigning in writing courses with technology themes or issues, cultural study courses, technical communication courses, philosophy (yes, philosophy) courses, where any goal of the course is to understand humanity's relationship to machines.
The idea that coders or programmers are the unacknowledged legislators of our world, a riff on Percy Bysshe Shelley's concluding sentence in "A Defence of Poetry," that Poets are the unacknowledged legislators of the world, is not new observation.

….
Depending on your approach and what you want to emphasize, you might want to ask students to first read this short HP interview Ben Cosgrove had with Douglas Rushkoff about consumers increased need for media literacy. Ford's piece goes a long way to giving students the kinds of context and understanding useful for understanding the kinds of web literacy Rushkoff advocates.
Do you plan to teach with "What Is Code?" Please leave us a comment below about "What Is Code?"