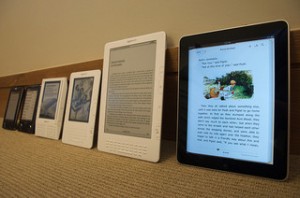 Welcome to the DRC's second Hack/Yack Series.  Over the next two weeks, Troy Hicks, Associate Professor of English at Central Michigan University, will be taking us into the "existing world of e-reading" to look at what increasingly interactive digital texts mean for readers and writers.  Dr. Hicks and fellow researcher Dr. Kristen Turner from Fordham University conduct research into students' reading practices and contexts.  Together, Drs. Hicks and Turner work to show students how they can "enrich their (digital) reading lives" with tools they may have never heard of.
Now Dr. Hicks will be sharing his research, his teaching experiences, and a long list of tools with us.  By the end of the series, we hope your reading lives are similarly enhanced.  Such a boost is important for our (digital) writing lives, as well, for we "need to become increasingly aware of why and how our readers find our work, click on our links, examine our images, and then share what they have read." Beyond "what it means to be a digital reader," Dr. Hicks will investigate the "implications that might carry for us, too, as digital writers."
Please join us as we explore a world we face regularly, the shimmering world of screen-based texts.  This time, guided by Dr. Hicks, we hope you'll see it through new approaches to reading and writing and with the help of innovative software, websites, and tablet applications.  Get ready to be immersed in hypertext fiction, transmedia narratives, and storytelling possibilities you, too, can experience and make available to your students.
We are thrilled to have Heidi Perry of Subtext join us for a guest post, as well.  We've lined up two weeks of digital reading you won't want to miss!  Stay tuned and join in the conversation with your comments and tweets (@SweetlandDRC, #digitalreading, #digitalwriting).