What Does this Tool Do?
Screencastomatic is video and audio screen capture software. The online version that works well with windows, but doesn't always play nicely with Mac. There's a downloadable version that works equally well with both PC and Mac.
Features of the program include:
One click video screen capture and audio recording for videos of up to 15 minutes
Easy upload directly to Youtube
Resizable recording window (so you can hide your messy computer desktop, if you're like me)
Here's the interface: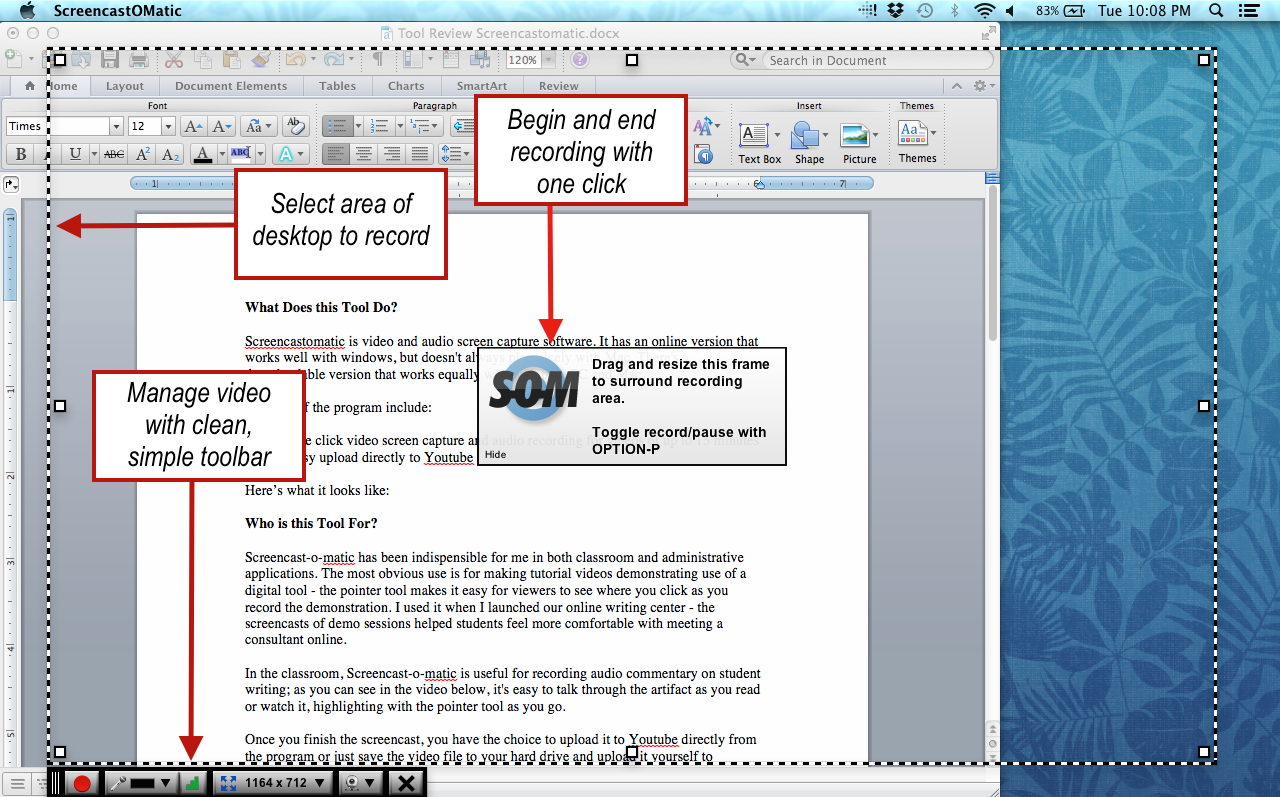 Here's the program in action:
Who is this Tool For?
Screencast-o-matic has been indispensable for me in both classroom and administrative applications. The most obvious use is for making tutorial videos demonstrating use of a digital tool – the yellow pointer makes it easy for viewers to see where you click as you record the demonstration. I used it when I launched our online writing center, and the screencasts of demo sessions helped students feel more comfortable with meeting a consultant online.
In the classroom, Screencast-o-matic is useful for recording audio commentary on student writing; as you can see in the video above, it's easy to talk through the artifact as you view it, highlighting with the pointer tool as you go.
Once you finish the screencast, you have the choice to upload it to Youtube directly from the program or just save the video file to your hard drive and upload it yourself to Dropbox or some other file sharing app.
How Accessible is this Tool?
The tool itself is as accessible as any video and audio recording software – there are no special accommodations built in for accessibility, though the videos can be made more accessible when paired with other programs.
Will It Integrate into my Institution's Learning Management System?
The videos you make will integrate with your LMS as easily as any other video – and again, you have the choice to either post a Youtube link or upload the video file directly.
Will I Need to Pay to Use It?
There are both free and subscription versions of this program. The subscription service, which costs $15/year, allows you to directly upload videos to Google Drive, Drop Box, and a few other spaces, though you can manually upload the files to the same spaces with the free version.  The paid version also allows you a wider range of tools to play with including the ability to record webcam footage of yourself to embed in the screen cast, which could be useful for online teachers.
The Bottom Line
Screencast-o-matic is an easy to use program with a clean, intuitive user interface. While the bells and whistles in the subscription version are nice, the free version works just fine for most applications.