As Facebook's designated chat application, Facebook Messenger garnered 1.2 billion active users in April 2017, adding 200 million users in a matter of eight months (Constine, 2017).  The popularity of Messenger is undoubtedly tied to the popularity of Facebook, and its desire to incorporate the features of other social media apps into its design (Chowdry, 2017). Messenger allows users the ability to not only send text messages, but to make voice and video calls, and to send money, files, stickers, edited photos, and GIFs via the platform. Users can create groups that allow them to chat or play games with multiple people, and they can add videos or photos to the "My Day" feature, which is similar to SnapChat Stories (Constine, Lomas & Biggs, 2016). In short, there isn't much that you can't do on Facebook Messenger.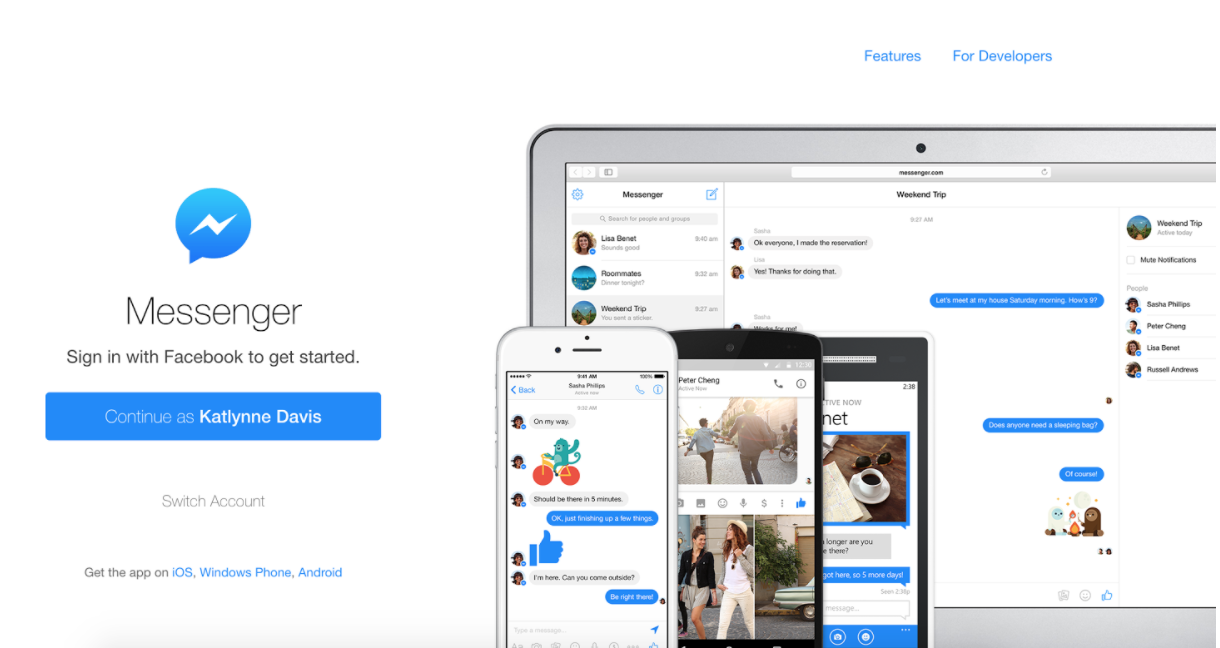 Cognitive Overload
While Messenger is appropriate for having fun with friends, it's viability as a collaborative tool is undermined by the sheer number of things that can be done within the app.
The bottom bar contains options for users to add extensions or extra features to the app, take or send photos (which can then be edited within the app, similar to functions found in SnapChat and Instagram) or videos, record a voice message, and send text messages. Additionally, clicking on the "smiley" face to the right of the text box opens up another set of options for sending stickers and emojis, and searching for and sending GIFs. Additionally, at the top of the chat window, users can select the phone and video camera icons to voice or video chat, or the "i" button to change a whole host of settings within the app and to access other features, including options to send money or start a "Secret Conversation" in which messages expire after a selected amount of time (King, 2016).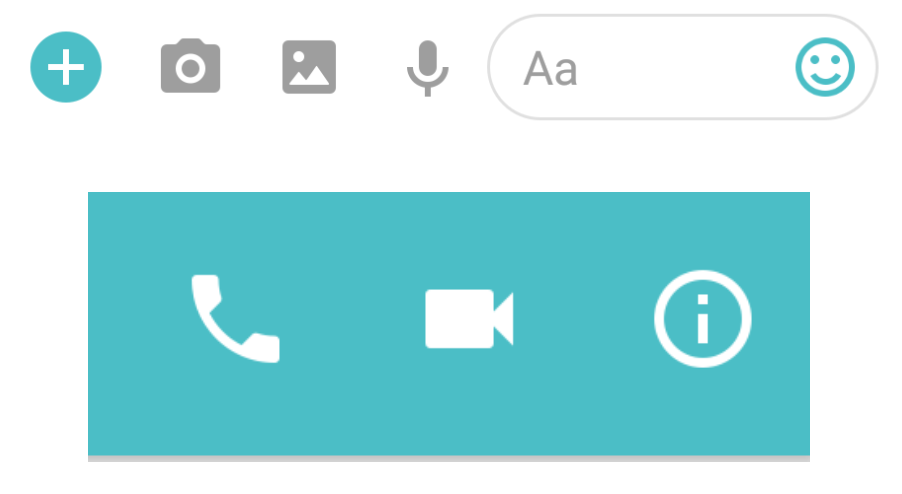 Though the Messenger chat window interface does not show all of these options at once and differs between Android and iOS versions, it's safe to say that users may feel overpowered just by encountering all of these different ways to communicate and interact with others. In his analysis of Slack's affordances as a Team Communication Platform (TCP), Abram Anders (2016) discusses how certain platforms can induce "cognitive overload" where users feel overwhelmed by information and distracted from the tasks at hand.
Messenger has a different purpose and offers a completely different interface than Slack, but the concept of cognitive overload is still a concern. Those using Messenger for collaborative purposes may find some features to be distracting by nature—there may not be a legitimate use for a collaborative team to play games or send stickers. As an instant message or chat application, Messenger's purpose is to facilitate private conversations between users. These may also become overwhelming or distracting, especially if members of a collaborative group choose to speak to one another in private messages as well as in a group message. Anders reviews how instant messaging applications support this type of "multicommunication" across many simultaneous conversations. However, multicommunication can serve to derail collaborative processes by presenting users with an overabundance of conversations that they must attend to.
Social Cohesion & Engagement
Messenger's capacity to distract users from collaborative work can be balanced by the ways in which it might build social ties between those working in collaborative groups.
Anders (2016) reviewed the significance of social cohesion and engagement, or the development of a "sense of belonging and community" as one factor influencing effective collaboration.  With Slack, Anders discovered that users appreciated the social elements of the platform, including being able to send emojis and GIFs. He also found that some organizations created specific channels of communication dedicated to social engagement, which helped to boost a team's morale, foster personal relationships, and support a team's commitment to goals. In the same way, Gardner and Mortenson (2015) argue that collaborative teams make time to create a "virtual water cooler" that promote feelings of a "shared we." Because it contains features that are fundamentally geared towards the social, Messenger can work to create stronger social cohesion among groups and individuals working together.
Messenger in the Classroom: Collaboration & Cooperation
Ultimately, using Facebook messenger as a tool for successful collaboration in the classroom depends on the goal in using it.
In defining collaboration, Baker (2015) refers to Rochelle and Teasley's explanation: "Collaboration is a coordinated, synchronous activity that is the result of a continued attempt to construct and maintain a shared conception of a problem." Baker writes that collaboration is more than just cooperation, or striving towards a common goal, in that individuals work together "to gain a shared understanding of the task."
If the goal is to collaborate on a writing project in the classroom, Messenger may not be ideal in terms of writing together because it does not offer any writing tools, with the exception of sending files. For example, students who have to work on a writing assignment may simply use Messenger to send files back and forth—one student may have been assigned one section to work on, another a separate section, and so on. This is more like Baker's definition of cooperation, which is akin to "dividing up the task into subtasks and assigning individual (or subgroup) responsibilities for achieving each of them."
However, if the students use Messenger as a tool for sharing ideas, this might lead to a legitimate collaboration—they can use text, audio, or visual messages to discuss the goal of the assignment and bring other others into the conversation.
The Future of Messenger
As Facebook Messenger continues to evolve, it's important to keep an eye on its affordances and limitations as a collaborative tool. Messenger's design brings a multitude of features to the forefront to distract users. Moving some of these features—with the exception of the text bar and phone or video call options—off of the main interface may help keep users focused. Still, as a large, successful social media company, Facebook's goal is to keep people involved in Facebook platforms for as long as possible.
In October 2016, Facebook announced the launch of its Facebook Workplace platform, a tool similar to Slack in its focus on communication within an organization (Sather, 2017). Though the platform is still relatively new and may change, the interface looks strikingly similar to Messenger. In the future, it may be helpful to see how much of Messenger's design is found in Workplace, and how organizations are incorporating the social into their communicative practices.
References
Anders, A.  (2016). Team communication platforms and emergent social collaboration practices. International Journal of Business Communication, 53(2), 224-261.
Baker, M.J. (2015). Collaboration in collaborative learning. Interaction Studies: Social Behaviour and Communication in Biological and Artificial Systems, 16(3), 451-473.
Chowdhry, A. (2017, August 14). SnapChat vs. Facebook from a first mover to a fast follower standpoint." Forbes. Retrieved from https://www.forbes.com/sites/amitchowdhry/2017/08/14/snapchat-vs-facebook-from-a-first-mover-and-fast-follower-standpoint/#59ffddc93f8b.
Constine, J. (2017, April 12). "Facebook Messenger hits 1.2 billion monthly users, up from 1B in July." TechCrunch. Retrieved from https://techcrunch.com/2017/04/12/messenger/.
Constine, J., Lomas, N., & Biggs, J. (2016, September 30). "Facebook 'Messenger Day' is the chat's app's new SnapChat Stories clone." TechCrunch. Retrieved from https://techcrunch.com/2016/09/30/messenger-day/.
Facebook Newsroom. (2016, Oct. 1). "Introducing Workplace by Facebook." Facebook. Retrieved from https://newsroom.fb.com/news/2016/10/introducing-workplace-by-facebook/.
Gardner, H. K., & Mortenson, M. (2015, July 1). Collaborating well in global teams. Harvard Business Review. Retrieved from https://hbr.org/2015/07/collaborating-well-in-large-global-teams.
Sather, Max. (2017, January 16). Slack vs. Facebook Workplace. Medium. Retrieved from https://medium.com/@max.sather/slack-vs-facebook-workplace-1ae46aef77ea.