What is LittleBits Robot?
LittleBits are small pieces of modules and circuits that can be combined together with magnets, creating machines that perform multiple functions. The deluxe robot kits come with instructional manuals that allow users to build predesigned projects such as glowing handlebars, flickering lanterns, door bells, etc. Beyond the manuals, instructors and students can have access to online resources for additional projects and teaching materials. Most interestingly, users are also provided opportunities to unleash their imagination in building their own inventions. While LittleBits have been more commonly used in K-12 settings, where kids are challenged to create various projects, recently the robot kits have also gained traction in higher education. The robot kits are particularly useful for teaching rhetoric and composition. In what follows, I will review the current application of the kits as a pedagogical tool as well as discuss ways to further integrate LittleBits into composition classrooms.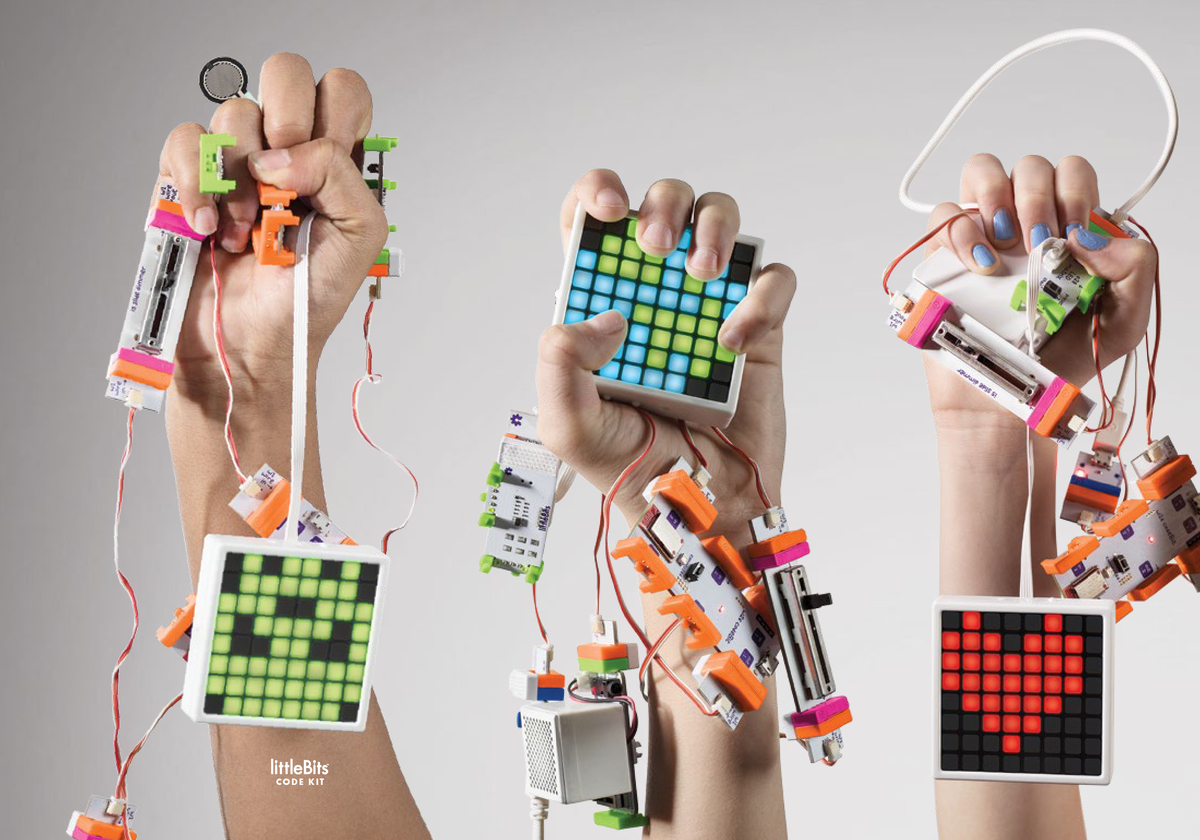 Using LittleBits Robot to Teach Rhetoric and Composition
LittleBits have been shown to invigorate students' rhetorical practice and enrich students' understanding of rhetorical concepts. In Faris et al.'s (2018) study, graduate students in a new media rhetoric course engaged in the making of instructional videos and promotional materials about LittleBits, while also experimenting with robotic projects that "purposefully fail." Through theorizing students' collaborative experiences using littleBits, Faris et al. (2018) situate littleBits within the scholarly discussion of rhetoric as rooted in the materiality of new media (Shipka, 2011; Wysocki, 2004; Hesse, Sommers, & Yancey, 2012), as related to the acts of crafting and remixing (Hammer & Knight, 2015; Johnson-Eilola & Selber, 2007; Sheridan, 2016; Sirc, 2002), and as contingent on the ecology of rhetorical action (Boyle, 2016; Cooper, 1986, 2010; Edbauer, 2005; Rivers & Weber, 2011). With a focus on playing, creating, disrupting, and redesigning using littleBits, Faris et al. (2018) push forward maker approaches to the teaching of rhetoric. The researchers argue that commonplace media like LittleBits invite students to "disrupt their conventional practices of invention," "explore rhetorical practice as play, failure, and risk-taking," and "refigure creation as remix and craft" (Faris et al., 2018). Such a creative use of littleBits stresses the importance of playing with new media objects and embracing the possibility of failure, which forcefully challenges the traditional essayistic approaches to composition and composition process.
Similarly, the robot kits also hold the potential for expanding composition pedagogy. Vetter and Paz (2018) have encouraged graduate students in a doctoral course to play with the robot kits, brainstorm definitions of writing in multimodal composition, and imagine the pedagogical use of these kits in undergraduate contexts. Students experimented with the creation and invention of objects using the littleBits. Reflecting on how the kits can be used for teaching undergraduate composition courses, students came to the realization that LittleBits inventions could be designed as an "icebreaker" activity and as a tool to build group dynamics. Not unlike Faris et al.'s (2018) observation regarding the kit's capacity to disrupt composition conventions and processes, Vetter and Paz's (2018) report highlights the use of the kits as a "visual metaphor" that allows students to explore and rethink the structure of writing as well as the process of creating a writing assignment.
Additional Ideas for Using LittleBits
To boost collaborative, innovative learning in writing classrooms, another possibility opened up by littleBits is developing students' coding literacy through building and playing games. "Code kit," a product of littleBits with interactive game design functions, provides the opportunity for students to engage in game-based coding and invention. With the "Code kit," students will be able to design and program their own games, such as "tug of war," while also having fun creating animations with LED matrices and integrating sound effects into the design of their games. Moreover, advanced students can be incentivized to take part in open-ended design challenges and help people in their community. One such example is "Change the World Arcade," a game that allows students to address global issues, e.g., encouraging community members to recycle and count the number of bottles recycled. In a nutshell, littleBits has much to offer composition instructors, who hope to map out new ways of teaching rhetorical and composition concepts and cultivating students' game-based coding literacy. To get more ideas and inspirations for teaching, teachers may benefit from the open-source lesson plans and resources on littleBits official website, where instructors share lesson plans and innovative curricula (See "Resources" below).
Resources for Teaching with LittleBits
To find more information about teaching with littleBits, check out the following list of resources:
References
Boyle, C. (2016). Writing and rhetoric and/as posthuman practice. College English, 78(6), 532–554.
Cooper, M. M. (2010). Being linked to the matrix: Biology, technology, and writing. In Stuart A. Selber (Ed.), Rhetorics and technologies: New directions in writing and communication (pp. 15–32). Columbia, SC: University of South Carolina Press.
Edbauer, J.. (2005). Unframing models of public distribution: From rhetorical situation to rhetorical ecologies. Rhetoric Society Quarterly, 35(4), 5–24.
Faris, M. J., Blick, A. M., Labriola, J. T., Hankey, L., May, J., & Mangum, R. T. (2018). Building rhetoric one bit at a time: A case of maker rhetoric with LittleBits. Kairos: A Journal of Rhetoric, Technology, and Pedagogy. Retrieved August 12, 2019, from http://kairos.technorhetoric.net/22.2/praxis/faris-et-al/index.html
Hammer, Steven, & Knight, Aimée. (2015). Crafting malfunction: Rhetoric and circuit-bending. Harlot: A Revealing Look at the Arts of Persuasion, 15. Retrieved August 12, 2019, from http://harlotofthearts.org/index.php/harlot/article/view/261/173
Hesse, D., Sommers, N., & Yancey, K. B. (2012). Evocative objects: Reflections on teaching, learning, and living in between. College English, 74(2), 325–350. Retrieved August 12, 2019, from http://www.jstor.org/stable/23212904
Johnson-Eilola, Johndan, & Selber, Stuart A. (2007). Plagiarism, originality, assemblage. Computers and Composition, 24(4), 375–403.
Rivers, N. A., & Weber, R. P. (2011). Ecological, pedagogical, public rhetoric. College Composition and Communication, 63(2), 187–218.
Sheridan, David M. (2016, March 28). A maker mentality toward writing [Web log post]. Digital Rhetoric Collaborative. Retrieved August 12, 2019, from http://www.digitalrhetoriccollaborative.org/2016/03/28/a-maker-mentality-toward-writing/
Shipka, Jody. (2011). Toward a composition made whole. Pittsburgh, PA: University of Pittsburgh Press.
Sirc, Geoffrey. (2002). English composition as a happening. Logan, UT: Utah State University Press.
Vetter, M. A., & Paz. V. (2018). "Using LittleBits Robot Kits to Sponsor Community Building and Student Engagement Across Campus." Center for Teaching Excellence (CTE) Blog. Indiana University of Pennsylvania. Retrieved August 12, 2019, from http://iblog.iup.edu/ctebloggers/2018/11/19/using-littlebits-robot-kits-to-sponsor-community-building-and-student-engagement-across-campus/
Wysocki, A. F. (2004). Opening new media to writing. In Anne Frances Wysocki, Johndan Johnson-Eilola, Cynthia L. Selfe, & Geoffrey Sirc (Eds.), Writing new media: Theory and applications for expanding the teaching of composition (pp. 1–41). Logan, UT: Utah State University Press.