Editors: Courtney A. Mauck & Laura L. Menard
With the continuous development of new technologies and social networking spaces, teachers/scholars in the computers and writing community may often find themselves experimenting with tools or assignments that remain relatively underexplored or undertheorized. Because of the typical publication schedules upheld by traditional academic journals, research on social network sites and new media technologies can sometimes "fall behind" and may not accurately represent the innovative things teachers/scholars are doing right now. For this reason, we're excited to host a Blog Carnival that seeks posts reflecting on new/emerging perspectives at the intersections of new media technologies and writing studies. 
In Mina's (2019) Computers and Composition article, she examines writing teachers' use of new media technologies based on teachers' self-reports. Here, we extend that conversation in hopes that this format will allow us to showcase new/different approaches or understandings of new media technologies and it's relationship(s) to both pedagogies and professional development.
Thus, for Blog Carnival 20, we welcome reflections and critiques that engage with the ways in which writing teachers integrate new media technologies into their pedagogies and professional development strategies. Like Mina, we characterize new media technologies as "digital, interactive, hypertextual, virtual, networked, and simulated" (Lister, Dovey, Giddings, Grant, & Kelly, 2009) in order to invite a variety of submissions. We encourage submissions that explore both media-rich and text-rich technologies.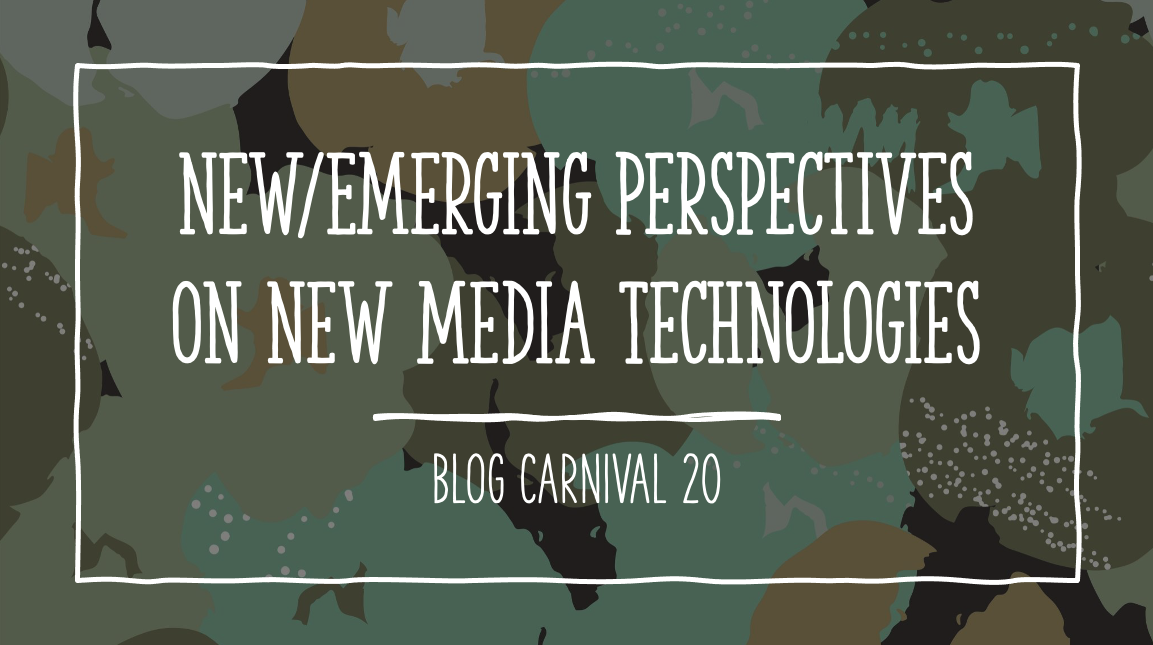 TOPICS
We invite blog entries that consider (but are not limited to) the following questions: 
How are you integrating new media technologies into your pedagogies? What innovative assignments, activities, or practices have you succeeded or failed with? 

How have we tried (and/or failed) to move beyond the "big three" (Facebook, Twitter, and YouTube) in our critical approaches to technology? 

What role has professional development played in your integration of new media technologies into your pedagogy? What new/changing approaches in professional development do you see a need for? 

In what ways do your pedagogies address issues of access/ibility, privacy, inclusion, and/or digital ethics in relation to new media technologies? 

How has the COVID-19 pandemic influenced your approaches to new media technologies? In what ways has the pandemic both necessitated and prevented innovation? 

How might we learn from our students about the influence(s) or importance of new media technologies? 

How do we navigate the importance of new media technologies within systems that do not privilege them?  
TIMELINE/SUBMISSION
100-Word Proposal – Feb 1 

Acceptance Notices – Feb 5

Full Blog Entries – Feb 18

Final Publication – Feb 21
We invite submissions in multimodal formats, including short text pieces (500-1000 words), audio recordings, videos, comics, interviews, and so on. If you are interested in contributing to this Blog Carnival, please submit your contact information and 100-word proposal to this Google Form by February 1, 2022. Full blog entries will be due approximately two weeks after you've been notified of your acceptance. 
CONTACT
If you have any questions or if you have a submission in mind but need more guidance, please do not hesitate to reach out to the editors, Courtney A. Mauck (courtneyannemauck@gmail.com) and Laura L. Menard (lmenard@bgsu.edu).