I'm a fangirl.
It's important to know in this context because that can pretty much explain my interest in social media and community. I sort of grew up in Internet fandom. Yes, I did fanart, fanfiction, fandom competition "lands," Livejournal, tumblr, all that. It's interesting to see how much Internet fandom actually shaped my interests: fanfiction got me interested in creative writing, which I pursued as a focus of my undergraduate degree; fanart taught me to use Photoshop; Livejournal (and then MySpace) taught me the basics of HTML and CSS; and the communities in these spaces introduced me to people and cultures that I, from a small, rural town in the Appalachian mountains, would have never experienced otherwise.
It's no wonder I tend to focus on the positive aspects of social media. It brings people together—and sure, some of those "friendships" are built on weak ties, created personas, and the false positivity that the idea of "friends" and "likes" generates. But ultimately, we're living in a time when we have the ability to seek out people and communities that "get" us. Does this shelter us from dissenting opinions, from experiencing hurt, intense debate, critical thought? Well, have you been on the Internet?
I am active user of several social media platforms, and I appreciate that they often offer me a chance to be in two places at once. Take, for example, the average fall Saturday: at any given moment, my Facebook page is awash with football posts—and though I am physically in Razorback country, my Facebook can transport me for a moment back to Rocky Top. It's a nice feeling, like nothing is quite so far away anymore.
I also enjoy bringing social media into my classroom. I deeply love teaching, and I want important writing and communication aspects to be accessible to my students. Social media remains a powerful touchstone for students. While they may not be able to quickly decide the intended audience for an anthologized piece, they have little problem identifying the rhetorical situation of their last Twitter post. It is not easy to encourage students to transfer this understanding, but it is important just to note that students' rhetorical awareness is deeper than we might imagine.
In my research, I am now focused on anonymous and ephemeral social media platforms, how student-users navigate these platforms, and how composition and technical communication specialists can research and use these platforms. Platforms like Snapchat continue to grow in popularity; others like Yik Yak have had to reimagine their purpose. But there's no doubt that applications with similar ideas—anonymous users and ephemeral content—will continue to perplex researchers. When data is not available, or it quickly disappears, how can we meaningfully study it? This is one of the questions I plan to explore in my dissertation project.
Connecting with others on social media has been crucial to my growth in my field. Because my department has few rhetoric and composition students, I try to take every opportunity to reach out and to meet other scholars. Online interest groups on Twitter and Slack have introduced me to conference collaborators, friends, and accountability groups (shout out to #WomeninTC!). Thanks to many people I've met, even briefly through chats, webinars, and Twitter discussions, I feel more supported in the field.
So I can see the value in what the DRC offers by hosting chats, blog carnivals, and other collaborative opportunities. I look forward enjoy the opportunity to facilitate and to participate in both new and ongoing discussions. I hope to be a supportive member of the DRC community: to help my colleagues and my other graduate fellows with their work for the DRC as well as to host my own events. I hope to be able to collaborate with some of the other fellows on a social media themed Blog Carnival, perhaps early next year. My main goal, however, is to work on creating more ways to foster community and discussion.
Now, I think I've said enough, so I've decided to use social media to help me introduce myself. A friend messaged me soon after I posted to Facebook and said, "Haha, I'm onto you. You made that post just so people would shower you with compliments." Remember what I said up there about false positivity? Here's my post from Facebook, with my friends' descriptions of me. You'll note that none of my enemies (we all have them on Facebook, don't lie) swooped in to tell you the negative parts of my personality. But I promise, there are many of those too. (You can click the image to make it a bit more readable.)
And, from Instagram, here is my #2015topnine.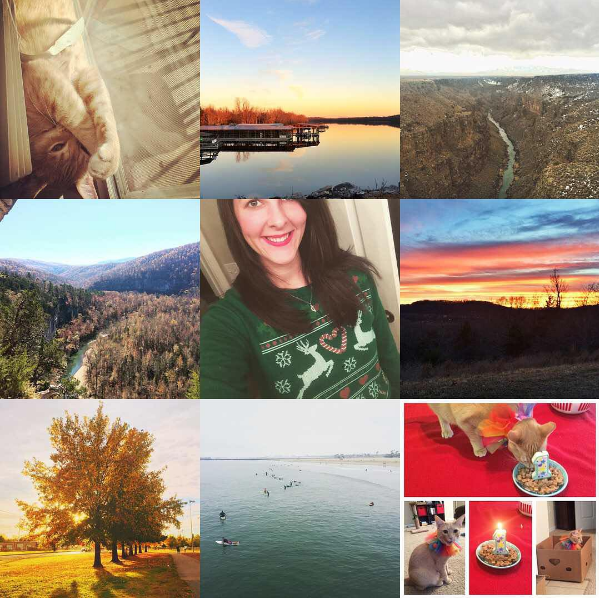 I could have gone through more recent photos, but I feel like this one pretty much sums it up: I love my cat, traveling, being outdoors, red lipstick, and holidays. The bottom right photo is from my cat's first birthday party. Yes, real, live people attended. Yes, we sang her happy birthday. And yes, someone gave her an empty box as a gift—she loved it.
Follow me on Instagram or Twitter: @saraofthewest.