Within Composition and Rhetoric, feminist rhetoricians have investigated the intersection of technology and pursuits of social equality. Their research has focused on women-centered online spaces, harassment on social media, digital civic engagement, and the gendering of technologies. Such scholarship acknowledges, as Judy Wajcman describes in TechnoFeminism, that technology is always a sociomaterial product: "a seamless web or network combining artefacts, people, organizations, cultural meanings and knowledge" (106). Understanding technology as sociomaterial means also understanding that technology itself is never neutral, nor even good or evil, but rather is embedded in our changing social relationships.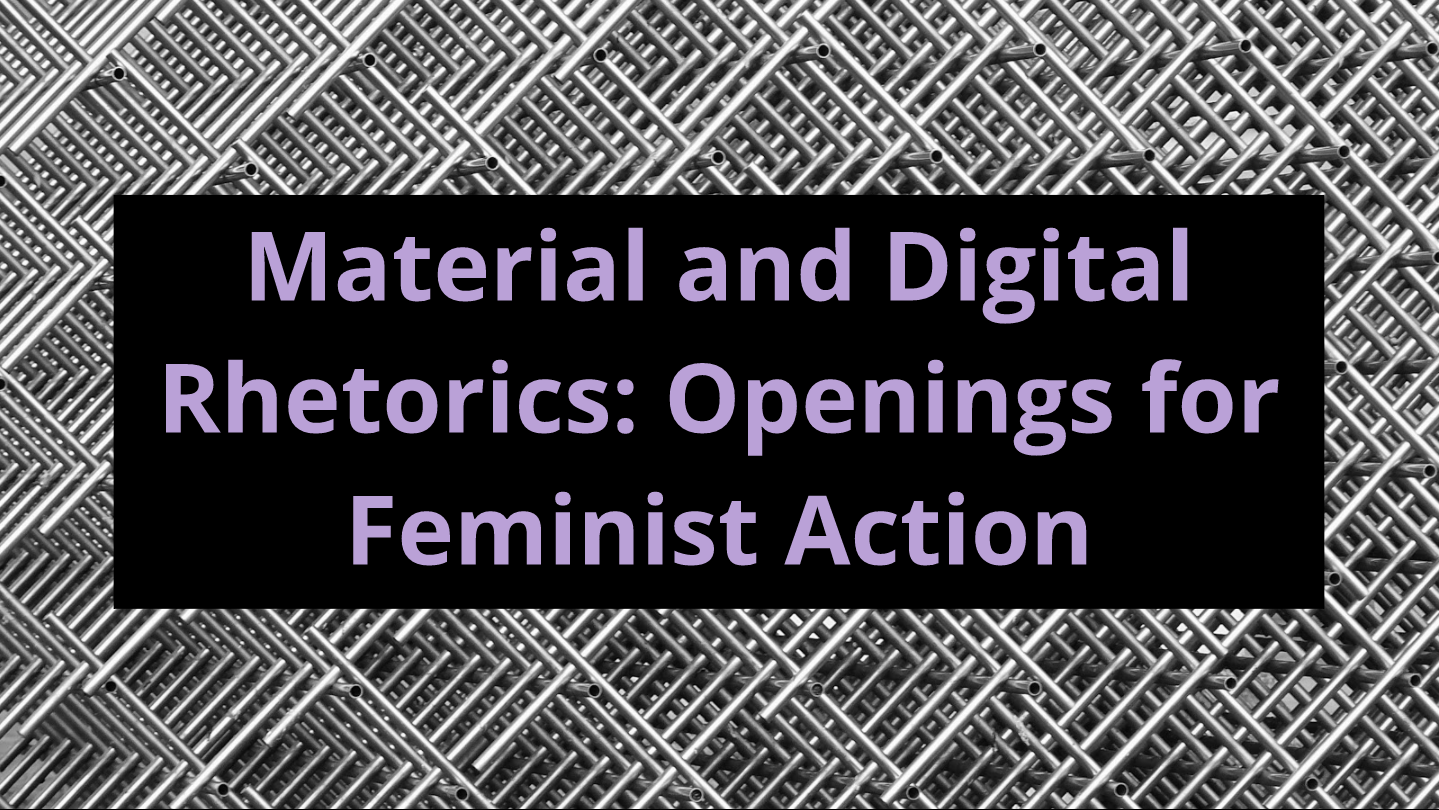 More recently feminist new materialists have pushed concerns about the material further, positing that things, objects, and materials are something lively and capable of agency. As Laura Michiche explains in "Writing Material," attention to materiality allows us to see how matter contributes to our communication in nontrivial ways (497).
The rising popularity and use of social media, virtual reality, and wearable fitness trackers have allowed for highly immersive experiences that emphasize these sociomaterial relations at the same time they bring up new questions and concerns about identity, privacy, surveillance, harassment, and the circulation of information.
This blog carnival aims to highlight how feminist theories may open up possibilities for awareness, activism, subversion, and transformation within our current material and technological contexts. We invite posts that consider our ethical, social, political, affective, and economic mediations with technologies and how such considerations direct feminist research, methods, and pedagogical practices.
We are seeking submissions in a wide variety of forms, including multimodal analyses, brief case studies, lesson plans, pedagogical approaches, interviews, tool reviews, and book reviews. We also encourage contributions and reflections from students and faculty at various stages in their careers.
Submissions may be proposed in any medium appropriate for featuring digitally on the DRC, such as text, audio, and video.
Questions may include, but are not limited to:
What does feminist action look like in an online environment?
What is the relationship of feminist digital action to our material realities?
How have you integrated feminist research and questions about technology and materiality into the classroom?
What can feminist perspectives tell us about the possibility of subverting or transforming technologies to make them more accessible, inclusive, diverse, and/or safe?
What does a feminist multimodal rhetorical approach look like? What would this bring to our classes?
What makes an interface or technology feminist?
If you're interested in contributing to this blog carnival, please submit your name, email, and short (100 words or less) proposal to this form. We will be accepting and publishing posts throughout October and November, so please send your descriptions as soon as possible, but no later than October 21st. Full blog posts will be due approximately two weeks after your 100-word proposal is accepted.