Presenter: Dr. Christine Gregory (Florida International University, Associate Teaching Professor, Director of the Digital Writing Studio)
Reviewer: Michelle Tram Nguyen (Bowling Green State University, Ph.D. Candidate in Rhetoric and Writing Studies, Writing Instructor)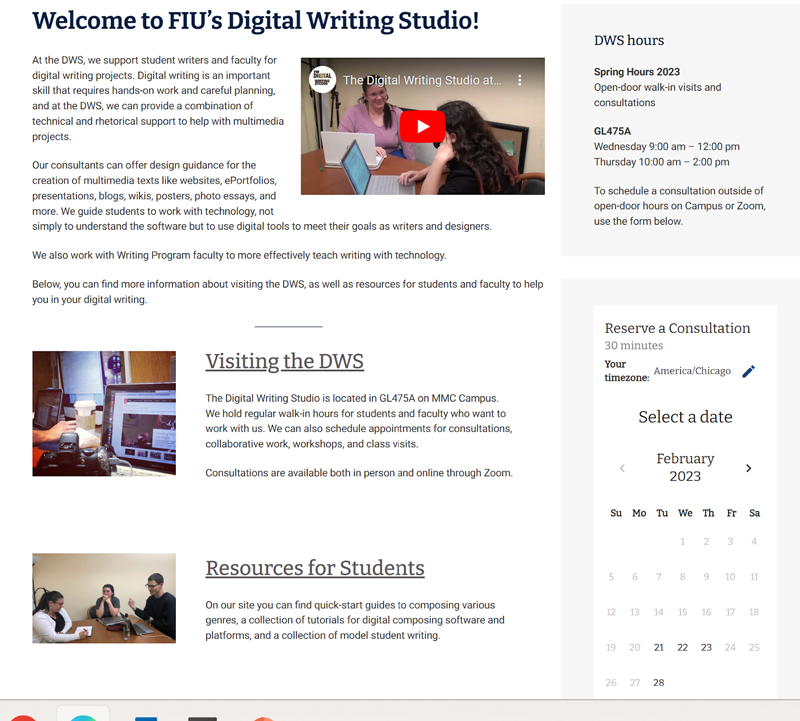 For those of us who teach digital writing, we probably cannot count how many times we have said something like: "We all understand how important it is to help our students to be able to write better in the digital world, but we wish we would have more resources and support." These resources come in the form of having more time beyond the traditional two or three hours a week in the classroom. Additionally, they might look like having an additional space with necessary equipment, digital hardware and software, and on-the-spot support so that the writers can explore new technologies, experiment with new ideas, take risks, work together, and ultimately be able to produce more high-quality writing products.
As rhetoric and writing teachers, we are fully aware that digital writing is not something emerging, new, fancy, or trendy. Not anymore. It is just simply a must-learn and must-teach skill set in any writing classroom. Our students should be well-equipped with foundational digital literacy knowledge and multimedia composing skills so that they can be more competitive on the job market. We as well know that writing in the digital landscape, as opposed to traditional text-based writing, is oftentimes much more complex—rhetorically, ethically, and technologically. It is as well more time-consuming and needs a lot more resources and support. Yet, it is sad to also know that, in many places across the country, there are people who must work tirelessly to keep these already limited resources possible and visible for their faculty and students. Christine Gregory, Associate Teaching Professor at Florida International University, where she also directs the Digital Writing Studio is one of those people. She has brought to the CCCC this year an incredibly well-prepared and thorough presentation: "Enduring Hope in the Digital Writing Studio: When the Forward-Thinking Past Meets the Present Realities," and sought to bring focus to sustaining and expanding such important resources and support for digital writing learning. 
Gregory framed her presentation with three key questions: What was the Digital Writing Studio created to be? In what ways was that original vision realized or revised? And what is the mission that should guide the Digital Writing Studio forward? At first, she took the audiences back to the earlier days of the Digital Writing Studio when it was established as a "specialized media lab for digital and multimodal rhetoric," with the mission of providing "rhetorically grounded instruction," to students and faculty working on multimedia writing projects. Specifically, students and faculty on the campus could drop in the studio for digital writing related consultation, collaborative projects, and idea-sharing. Without funding, this studio was operating out of a repurposed office space in the English Department with donated computers and surplus furniture. The studio later obtained modest grants from the university's tech fee to continue its operation as a low-budget resource center, at first for both faculty and students for mainly supporting the faculty. Although the studio faced many challenges because of the shifts in administration as people moved, took other jobs, or retired it played the important role in supporting writing instructors at the institution in developing their professional knowledge and digital writing pedagogies. 
In recent years, along with the development of the field and many changes at Florida International University, the Digital Writing Studio has recognized the need for reviewing and re-evaluating its mission, vision, and programmatic value. Faculty at Florida International University has been more solidly engaged with digital writing pedagogy, which means they might not need a lot of technical and pedagogical assistance from the studio. The writing program, in addition, has recruited more instructors and tenure-track professors with expertise in digital rhetoric and multimodal writing. Their first-year writing curriculum also became standardized in a way that almost all teaching assistants and new adjunct instructors are using a set of pre-designed assignments, and as such they were no longer seeking consultations on designing these projects. Furthermore, the university has recently had several other disciplinary studios and labs providing technical support and access to media and design software for faculty and students alike. Nonetheless, in her role as not only the Director of the Digital Writing Studio but also a digital writing teacher and an expert in digital rhetoric and writing instruction, Christine asserts that: "The Digital Writing Studio was uniquely positioned to align technical composing and rhetorical planning. And that, such operating principle remains crucial for the mission of the studio, even more so than it did a decade ago." Put differently, the mission of the Digital Writing Studio should be to contribute major and crucial value particularly to the rhetoric and writing program. 
Gregory then addressed the next important question: "How can the Digital Writing Studio realize this vision?" She discussed the significance of encouraging students and faculty to use the Digital Writing Studio—not merely as a technical tutoring service but as a collaborative, open, and low-risk space where they can engage with new ideas, collaborative projects, and the long and complex digital composing process that other campus spaces could not provide. At the same time, Gregory pointed out the dilemma they are now facing with. They do not have a space to make it a good place for collaboration. The current space, size, and location they have are inadequate for a digital writing studio to properly perform its functionality and usability. For instance, it was moved out of the English Department to a smaller far-flung office space on the fourth floor of the library, reducing its use as a resource for instructors to stop in and discuss digital writing approaches. The studio has the size of a faculty office. The room itself is poorly designed for a studio, with one outlet on the wall, space for three computers at most, and background noise from nearby restrooms—all of which make it nearly impossible for collaboration. Having a better space is the current top priority to help the studio be able to maintain and expand its operation. On the other hand, Gregory proposed a number of solutions for enhancing the activities of the studio, including resuming student consultations (rather than providing the service only for faculty), promoting collaboration with faculty, and creating resources to assist their student writers. As students work on multimodal projects, providing platforms for publishing students' digital work and applying for more grant and funding from the university should be incorporated in addition to updating the lab computers and other tools for digital writing. 
As a writing teacher who has been placing digital writing at the center of my instructional practice, I left the session with mixed feelings and a lot of questions. The image of a small digital writing studio with the space of a typical faculty office, three computers, one outlet on the wall, background noises from nearby restrooms, located at a far-flung corner on the fourth floor of the school library, stuck in my mind. It is difficult for me to learn the reality that, while many teachers are desperately asking for more resources and support so that we can provide our students with more comprehensive and effective digital writing learning experiences, it is at times extremely hard to make it the case to the administrators and other stakeholders. However, I keep my hope up when I learned that Gregory seems to have a very clear vision and a strong plan for the Digital Writing Studio at Florida International University. The studio's focus shifting from mainly supporting faculty to also providing student consultation, in my opinion, is a necessary move. The idea of transforming the studio into a collaborative and open learning space is also well-aligned with the operation model some other institutions have successfully developed. That said, I hope that Gregory will soon get back to the Cs next year with updates for us on the new journey of her Digital Writing Studio—a studio with the activities, functionality, and usability that are integral to all and any Writing and Rhetoric program.