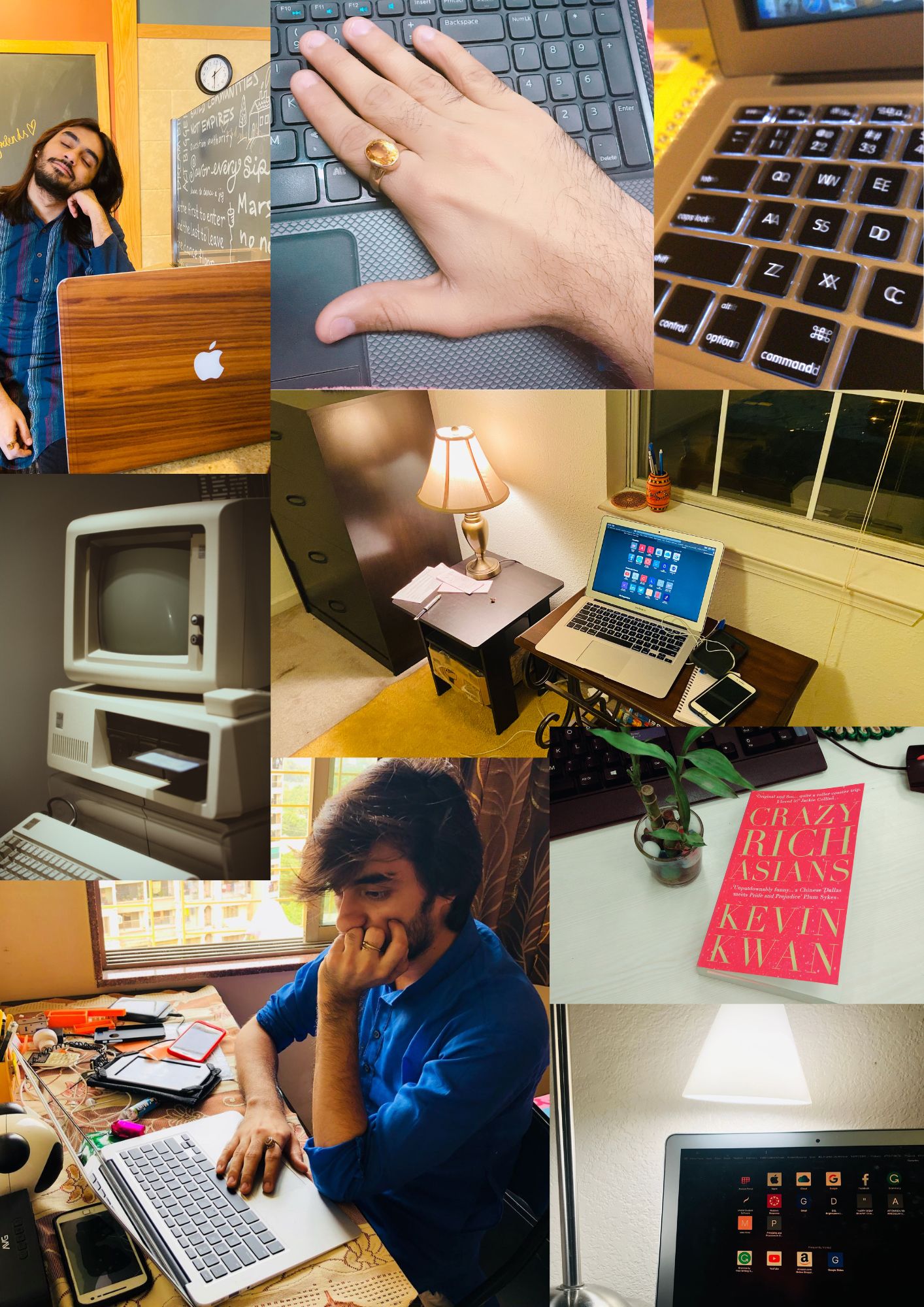 My name is Saurabh Anand.
I was born in 1992. It was one of the initial years when many postcolonial countries went
through "Globalization," "Privatization," and "Liberalization," including India. Delhi, my birth city, and other major cities became the hub of technology, software, and hardware exports. It'd be an understatement to say right from the beginning of my childhood, computers, AKA technology, were all around me. 
My aunt worked as a software engineer for a company called  Samtel India . It was one of the premier hardware and software companies of that time. Her company gave her a home computer (we used to call it a desktop) to work at on weekends if she needed to (which was very "normal" to do then and now in India). At age 5ish, my first memory of a computer was an off-white monitor that looked like a small TV but was equally hefty to hold. I am talking about when mobile phones in India were not too common. So here is a close-to-real picture of the first computer that resembles my first memory of my entry into the world of digitalization.
I distinctly remember that before the desktop's delivery, a special corner spot in the house was spared for its installation site. A new table was purchased, too. My Nani Maa, a Hindi name for my maternal grandmother, even sowed a cover for the desktop, CPU, and keyboard to keep them dust-free but away from evil eyes, ha! Quite soon after, neighbors and relatives started paying us impromptu and over-excited home visits to peek at the computer, considered one of the greatest human inventions of that time. My grandparents, parents, and I did not know how to operate the computer, but we indeed began understanding and calculating a computer's productivity capabilities and social value.
Along with brick-thick computing books, mountains of floppy disks and CD-ROMs will be at my home. Dial-up connection and Yahoo Messenger Buzz sounds were second nature to all of us. My aunt would type day and night on a bland black screen some really "weird" set of alphabets, signs, and numbers (by now, I was 6-7ish) that did not match the English classes I was taking. She would call it "coding." All of this made me think of computers as super devices, leading me to learn the LOGO computing language during my journey in elementary school. RT 90 and SD 60 commands will be magic for me; they helped me create a rectangle on the computer, which I could so far draw in my math notebooks. My computer lab days were crucial in foregrounding my inclination for computers.
In middle school, Mario and Dave Computer games fascinated me. I would finish my school homework in advance and wait for weekends in excitement; the only time I was allowed to play games on my aunt's computer because it allowed me to explore the different work the characters in the games would take me to. As a middle schooler, it gave me a sense of the existence of different worlds other than the one I was then operating. To my ongoing curiosity, in high school, I did a graphic and visual designing course, which enabled me to create my first animation of a basketball that dribbled on its own. I also drew the box image of the Nokia mobile using Photoshop. Such moments would be so special for me because they allowed me to think and partially create things in the digital spaces.
As an undergraduate General Administration student, I learned DBMS (Database management systems) using Microsoft Excel, which guided me to learn about the digital efficacy of computers and software to optimize data as a person learning to work in the corporate world. This was also when I started using digital devices and search engines as an encyclopedic source of whatever I needed, leading me to explore information in different foreign languages I know now. When I moved to the US to pursue my MA TESOL, I was particularly interested in learning about corpus linguistics and the pedagogical affordances of digital spaces and software to teach language learners and train fellow teacher educators.
In my Ph.D., I often used digital tools and portals to document and analyze people's experiences worthy of accessing the social, economic, political, and learning upliftments through digital interventions in the world they operated.