This year's Computers and Writing presentation was about bridge building. In 2014, we discussed how we engage the CW community in content building for the site, and in 2015, we explored how the DRC can best reflect the multimodal practices we value as a community. This year, we took our session, ""The Sweetland Digital Rhetoric Collaborative as Instructional Tool: Cross Community Connections and Collaboration," in a new direction. While in previous years, we focused inward, exploring how we cultivate and maintain the blog to serve the CW community, this year's focus was collaborative and focused outward, exploring how we can serve the community, how teacher-scholars can engage with and use the site for teaching and research. Below is a recap of our session, which had two parts – the presentation, and the collaborative workshop. You can view the presentation slides here.
Our Presentation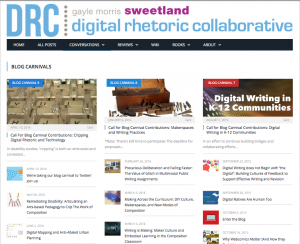 The DRC can be used as undergrad/grad course material. Instructors have already started using DRC content as course material. For example, we hosted nine themed blog carnivals (so far) that provide sets of scholarly yet accessible articles on a range of issues that may come up in your course. For example:
Because these blog carnivals are sets of curated posts by a variety of authors on a central theme, they can be useful as a body of resources to be used in conjunction with a course. The blog genre is generally more accessible and the language is more approachable than published scholarly articles, yet they're written by scholars who are rigiorous in their methods, so you can expect your students will engage with researched and cited writing. You can see the entire body of blog carnivals here.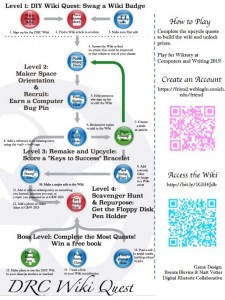 The DRC is opportunity for students to build a wiki. The DRC wiki houses information on digital media studies as a field, broadly construed. We have pages on foundational scholars in the field, key concepts and terms, historical items, commonly used tools, and more. In the past, teachers have used this wiki as an opportunity to allow their students to engage in public writing skills, first learning the genre of the wiki and then contributing as authors. We are willing to help develop lesson plans using the wiki and to feature your lessons on the blog. We've even gameified the wiki, creating a Wiki Quest game that could be adapted for your classroom.
The DRC offers opportunities for graduate student seeking professional development. Both tenure track faculty and graduate students contribute to our blog carnivals, which are professional publications on a highly visible site in the field of digital media studies. On the back end, when we accept a proposal for a blog carnival post, we work with the author, offering suggestions for revision before publishing the final text. This exercise gives students a sense of how academic publishing works in a lower-risk environment.
The DRC is a resource for blended/hybrid/online learning in comp/rhet. Our website has quite a few resources for teachers who are exploring teaching in hybrid and online environments. We have posts where teachers reflect on their experiences teaching, and also a hub of resources from books to blogs to organization's resources like NCTE. We also have the wiki and lesson plans where teachers can pull resources to assist in serving as a resource for online learning. Just one of these many resources is from former DRC Fellow Brenta Blevins who did a whole Hack & Yack series on the subject. One of her posts served as a review of the many resources she discussed throughout the Hack & Yack series.
The collaboration
After providing a general overview of the various ways the DRC can be used, we organized attendees into five different groups and gave them a prompt to facilitate the development of a potential lesson plan in a GoogleDoc. The prompt provided was as follows: What pedagogical strategies do we aim to promote as computers & writing scholars and how can tools, like those offered by the DRC, support us in meeting those strategies? From here, each DRC representative lead a group through discussing and brainstorming a possible lesson plan. The topics for each group ranged from collaborative writing and critical tool use to social justice and activism to multimodal and visual design thinking and composing. Through these discussions, groups were able to discover how they could utilize the DRC's resources to support classroom activities based upon these themes, and even further questions came up in regards to what more the DRC could provide, such as a dedicated part of the site to serve as a resource for teachers.
Looking Forward

Did you attend our session? Talk to us in the comments about what you found useful! Are you interested in teaching with the DRC? Talk to us about collaboratively creating a lesson plan. We'd love to feature you on the site!