When I learned I would be teaching an asynchronous, online section of Advanced Technical Writing at the University of Missouri-Kansas City (UMKC) in Spring 2019, I was both thrilled and terrified. I was thrilled because I would have the opportunity to teach an advanced course before going on the job market, but terrified because I wasn't sure how to design an asynchronous, online course that could engage in the kind of community-based curriculum, collaboration, and reciprocity I am committed to. For the last three years, my ethos as a cross-institutional adjunct has been built mostly on my work as a community-based writer and organizer, and as such, almost all of my courses are built around community-engaged projects or themes in the realm of social advocacy. To up the ante, this was going to be the first time any technical or professional writing course had been offered in the English Department in more than 11 years! While I was honored to have been offered the opportunity to develop a course from scratch, I agonized for months about how I might design a course that could give undergraduate students the opportunity to engage in the fieldwork of community-engaged, public-facing technical communication.
In an effort to align this technical writing course with my previous community-engaged work and establish both a conceptual and practical relationship between technical communication and design advocacy, I sought a partnership with KC Digital Drive, a local 501c3 that focuses on closing the digital divide and increasing digital innovation in Kansas City. With an existing MOU with UMKC and a commitment to building university research capacity through community-engaged projects, KC Digital Drive was a natural community partner for our class.
Code for KC: A Hybrid Space for Community-engaged Technical Writing Projects
After informally surveying the enrolled students about their goals for the course, I learned that 9 out of the 12 students aspired to work as content writers, journal editors, or technical writers but had no experience or coursework in those fields. With these goals in mind, I worked with leadership at KC Digital Drive to coordinate a semester-long partnership for us with Code for KC, a local start-up non-profit powered by KC Digital Drive that engages in digital and social advocacy by making government processes and technologies more accessible. Since Code for KC hosts semi-annual hack-a-thons and weekly meetings on Monday nights, it served as a sort of hybrid learning space, offering an extension for students to engage in community-based technical writing beyond the scope of our course where face-to-face contact would be limited to scheduled Zoom meetings, coffee meetups, and UMKC's Undergraduate Research Symposium.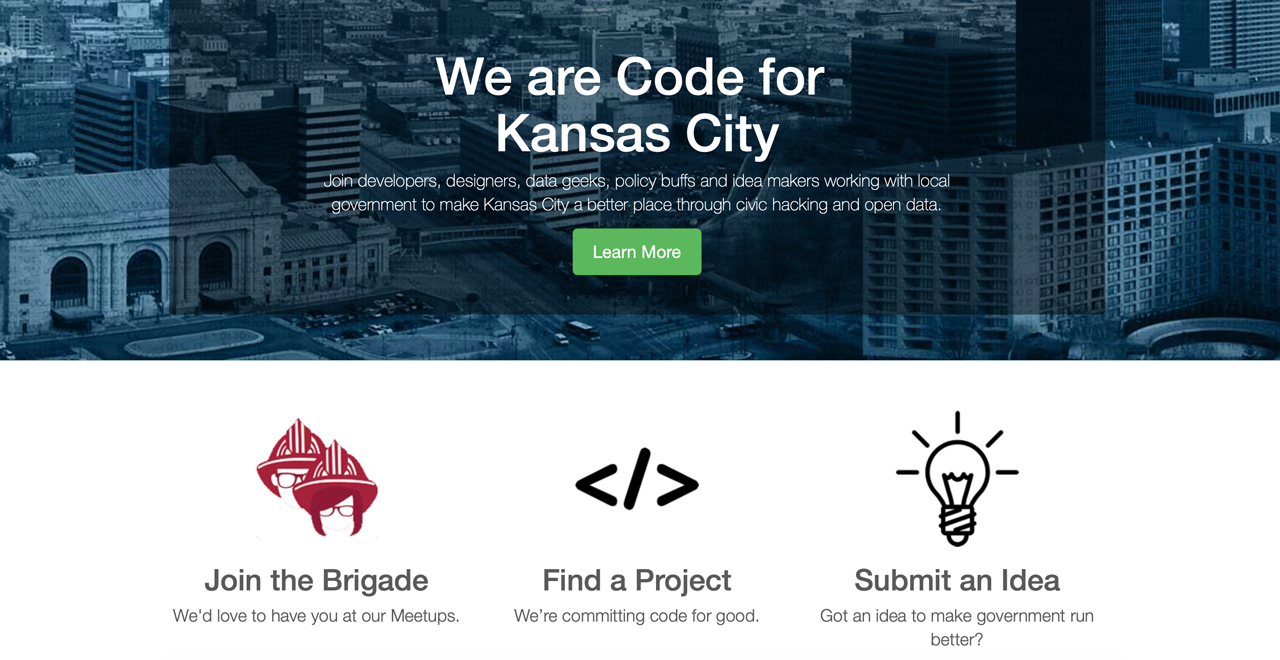 Figure 1: Code for KC website homepage where volunteers can review GibHub readme files and learn about in-process and delivered projects
I had partnered with Code for KC in previous semesters, albeit for a different kind of course. My discourse (speech and writing) students participated in the research and development phases of the design process for CommunityKC, a networking tool designed to connect local civic groups to volunteers and funders.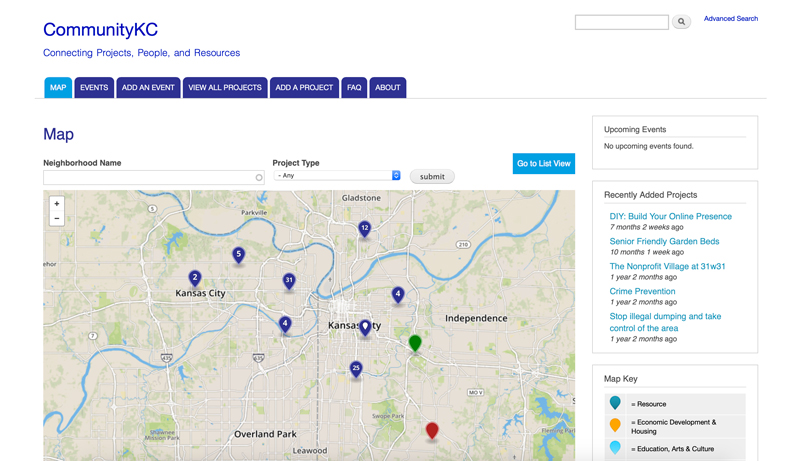 Figure 2: CommunityKC homepage where Kansas City residents can locate projects they may be interested in volunteering for; organizations are sorted by type, location, and self-described volunteer needs
While CommunityKC had provided a unique space for my discourse students to negotiate the content creation process for a live, fully-functional website, the partnership for my technical writing students needed to engage in all phases of a multimodal design project — from conception to execution and user testing. Since many of the enrolled students expressed a desire to work in competitive writing fields, this 16-week experience needed to create opportunities for them to engage in hands-on learning (Ross & Arnett, 2013, p.230-232) and offer spaces to compose content that could be used in a portfolio or listed on a resume.
ENTER Re.Use.Full, a Code for KC recycling project which aims to reduce waste and promote reuse by connecting donors to organizations that have a use for their reusable items. Its creator, Leslie Scott, often refers to Re.Use.Full as the Uber for in-kind donations. As a technology solution that builds nonprofits' capacity by increasing the quality and quantity of the in-kind donations they receive, Re.Use.Full is designed to function as a digital communication and exchange space that will shift the donation process from the doorsteps of donation centers into the sharing economy.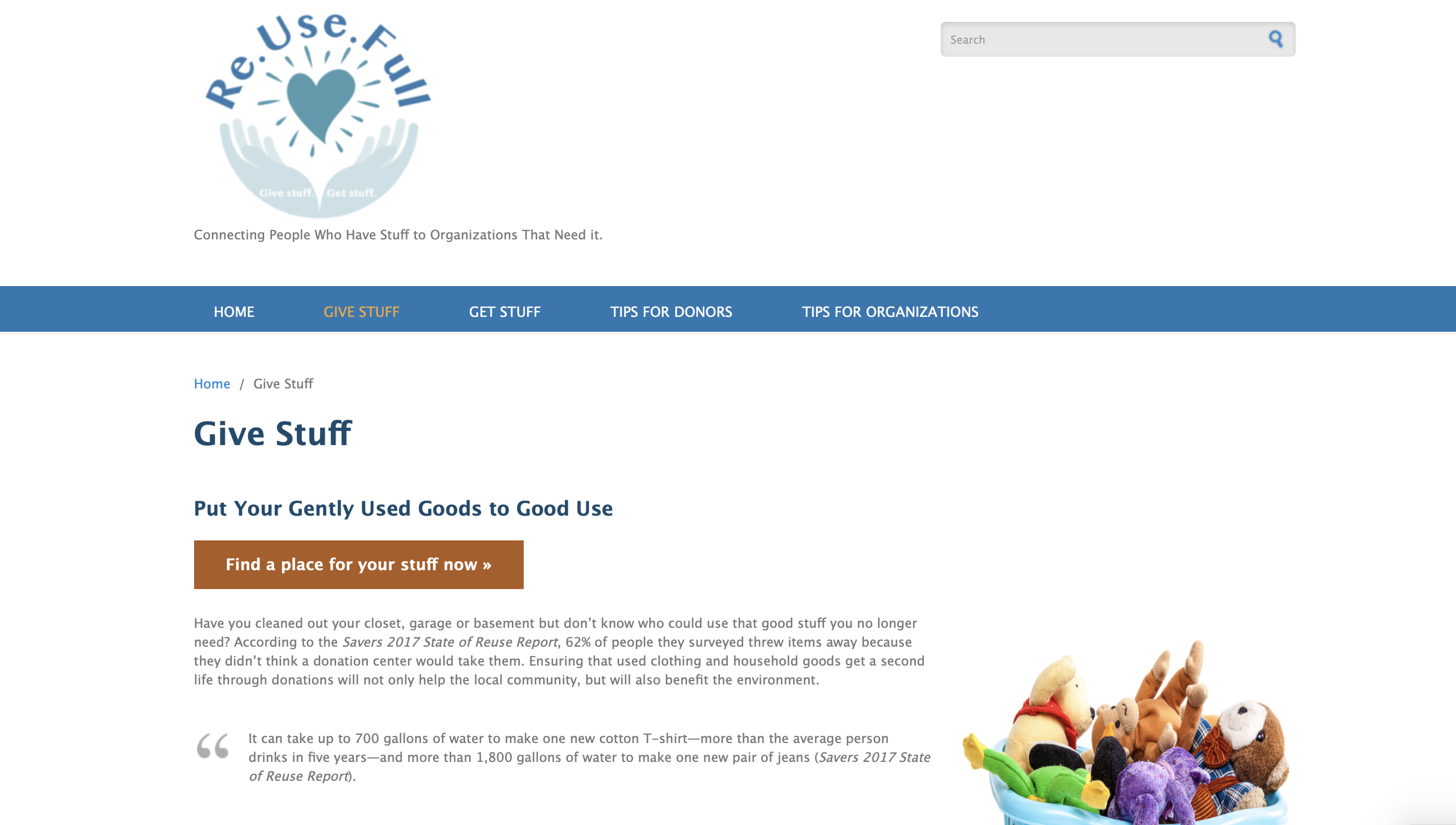 Figure 3: Current "Give Stuff" page for Re.Use.Full, which will continue to be revised as advanced technical writing students produce the content; August 2019 is the estimated completion date
As of January 2019, Re.Use.Full was still being conceptualized, which made it the perfect opportunity for a community-focused, service learning project for my students. To begin our work, we met with Leslie in a 2-hour, synchronous Zoom meeting to understand her vision for the project and learn how we might be able to help. During our discussion, we learned that in addition to matching individual donors to the nonprofit organizations who need their reusable stuff (e.g. television), Re.Use.Full had the potential to serve as a place for non-profits to swap previously donated goods as well. For roughly 10-weeks, our class worked to develop both the public-facing content for Re.Use.Full website as well as instruction sets and terms and conditions statements for the two, very distinct user groups.
Shifting Rhetorical Situations: Community-engaged Research in an Online Class
Not surprisingly, I was leery of the shifting rhetorical situations that occur in an online, asynchronous class, and I was particularly concerned about how those might affect our ability to work with a community partner. In fact, if I hadn't already worked with members of KC Digital Drive, Code for KC, and CommunityKC in previous semesters, I'm not sure this project would have been possible. As many readers may already know, a mutually beneficial, community-engaged, service learning curriculum requires long-term partnerships that often span more than one semester or class (Simmons, 2010). Because I spent nearly three years developing relationships with non-profits and community organizers in Kansas City, I was able to work from a liminal space of what Elenore Long (2008) identifies as a "non-interventionist agitator," someone with formal institutional ties who takes an activist stance, connecting people and resources over time (p. 111). This existing ethos within the Kansas City community, and with Code for KC specifically, made the shift from a face-to-face classroom to an asynchronous online learning environment less jolting.
In addition to meeting the challenges of an asynchronous, online learning environment, the course was designed to address the needs of our community partner while remaining cognizant of the possibility for service learning courses, especially those in technical communication, to become hyperpragmatic (Scott, 2004, p. 294). To combat this tendency, a significant portion of the course was spent on reflective, collaborative work where students focused on articulating our progressive process, not just with one another, but with our community partner. Following J. Blake Scott's (2004) suggestion to use participatory design principles and an intercultural inquiry process that mirrored the values of cultural and community rhetorics (p. 299), our class engaged in a partnership with Code of KC that was focused on an iterative, agile development process, cross-cultural and intercultural communication practices, and mutually beneficial final deliverables.
Tangible Takeaways: Building Portfolios and Purposeful Partnerships
As this blog goes to press, my students are still hard at work, polishing their final versions of each deliverable for our community partner. Upon completion of the course, each student will have a set of deliverables that can be included in their senior portfolio and resume. For our class, those include: 1) Web 1.0 content, such as an about page and mission statement; 2) instruction sets for two different user groups; 3) regulatory content, primarily terms and conditions statements, 4) Web 2.0 content, including a single-authored blog post, and 5) a community development plan. In addition to completing the community-engaged, public-facing technical communication mentioned above, each student presented their research and Re.Use.Full content at UMKC's Undergraduate Research Symposium on April 18, 2019. Below are a few photos from the event, where one of my students won the KC Works award for her translation work on the Code for KC expungement app, an additional technical writing project that she completed in collaboration with the UMKC School of Law.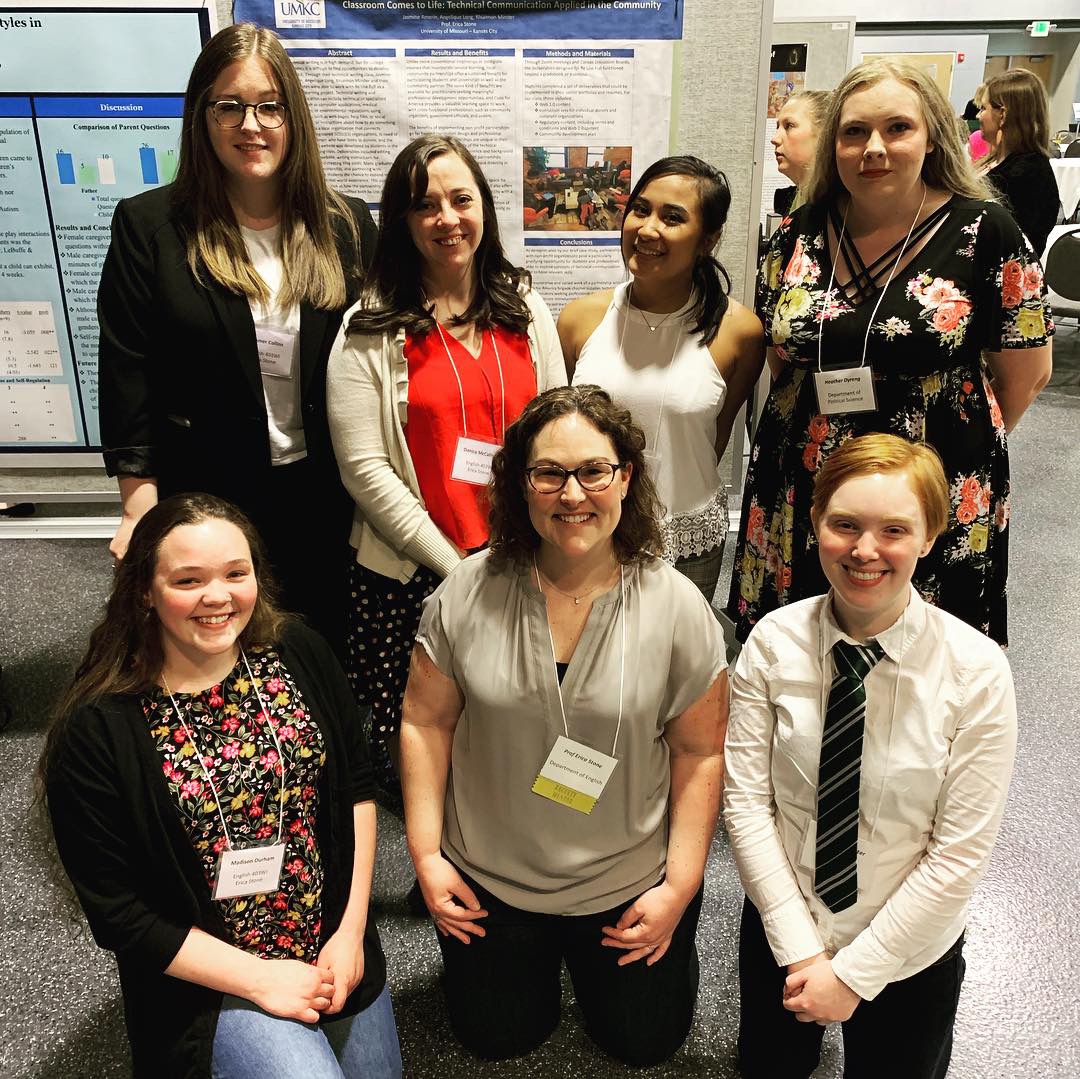 Photo 1: Erica with some of the students who were able to attend and present at the Undergraduate Research Symposium on April 18, 2019 (Top, left to right: Summer Collins, Danica McCallister, Jasmine Amerin, Heather Dyreng; Bottom, left to right: Madison Durham, Erica Stone, Rhiannon Minster).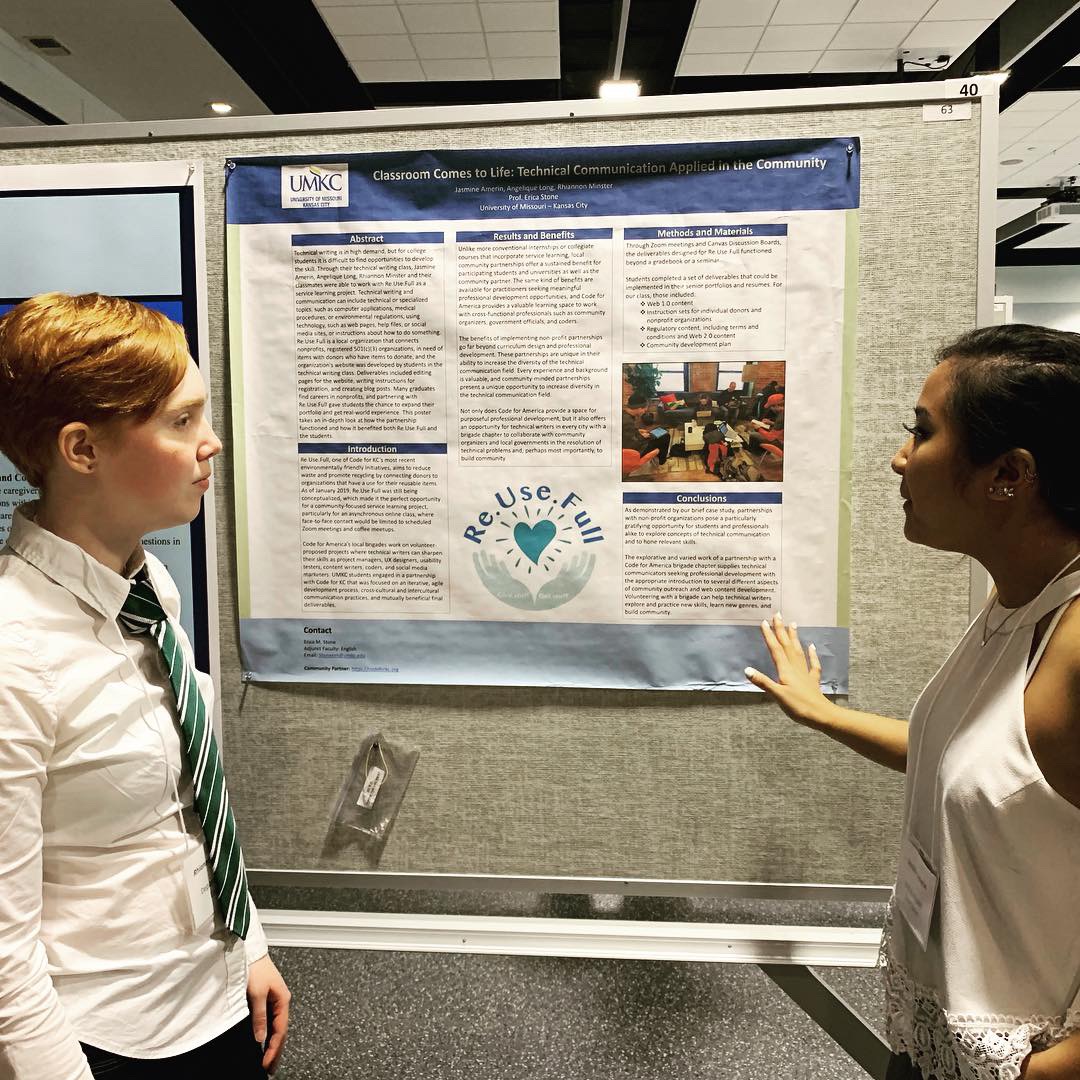 Photo 2: Rhiannon Minster and Jasmine Amerin discuss their poster, Classroom Comes to Life: Technical Communication Applied in the Community.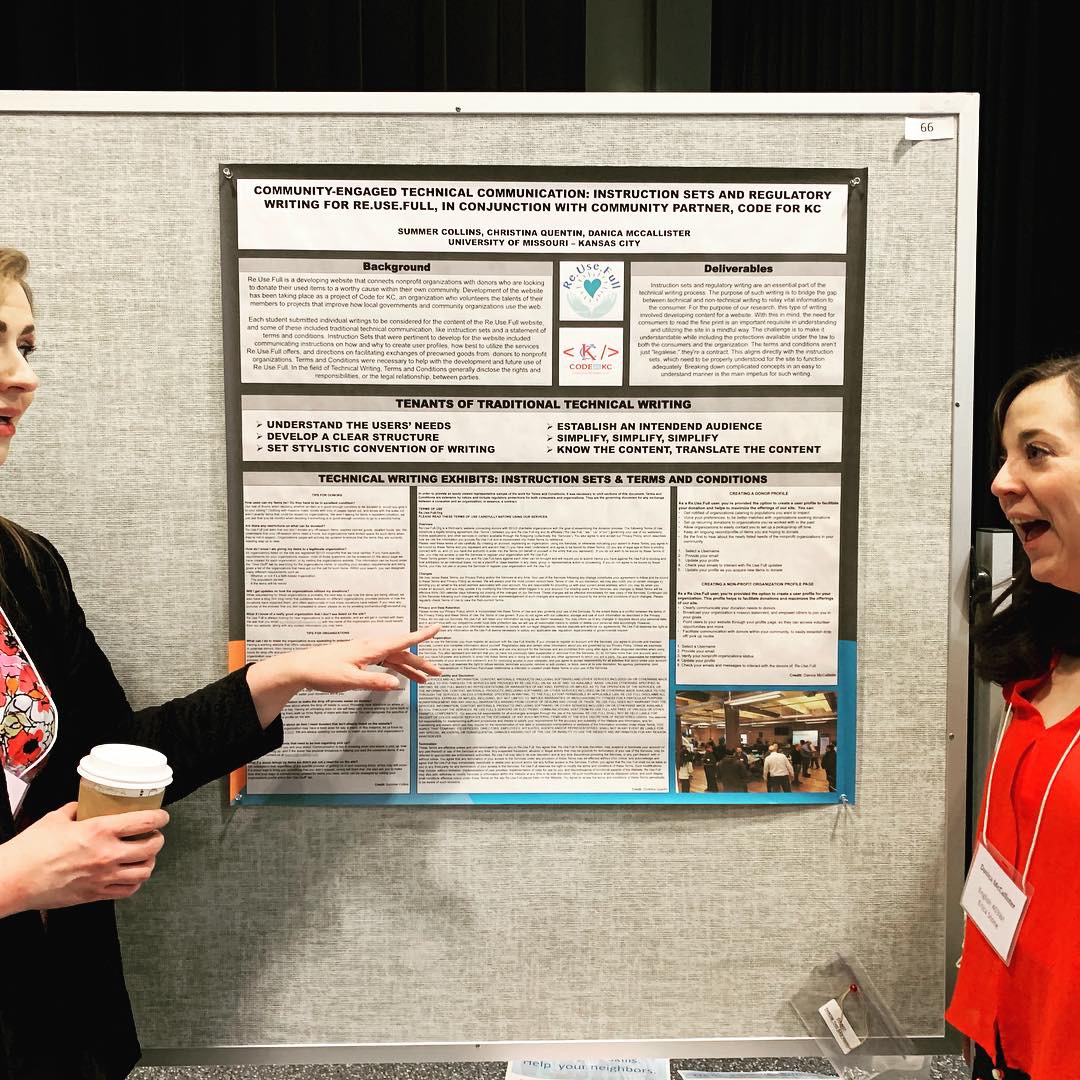 Photo 3: Christina Quentin and Danica McCallister discuss their poster, Community-engaged Technical Communication: Instruction Sets and Regulatory Writing for Re.Use.Full, in Conjunction with Our Community Partner, Code for KC.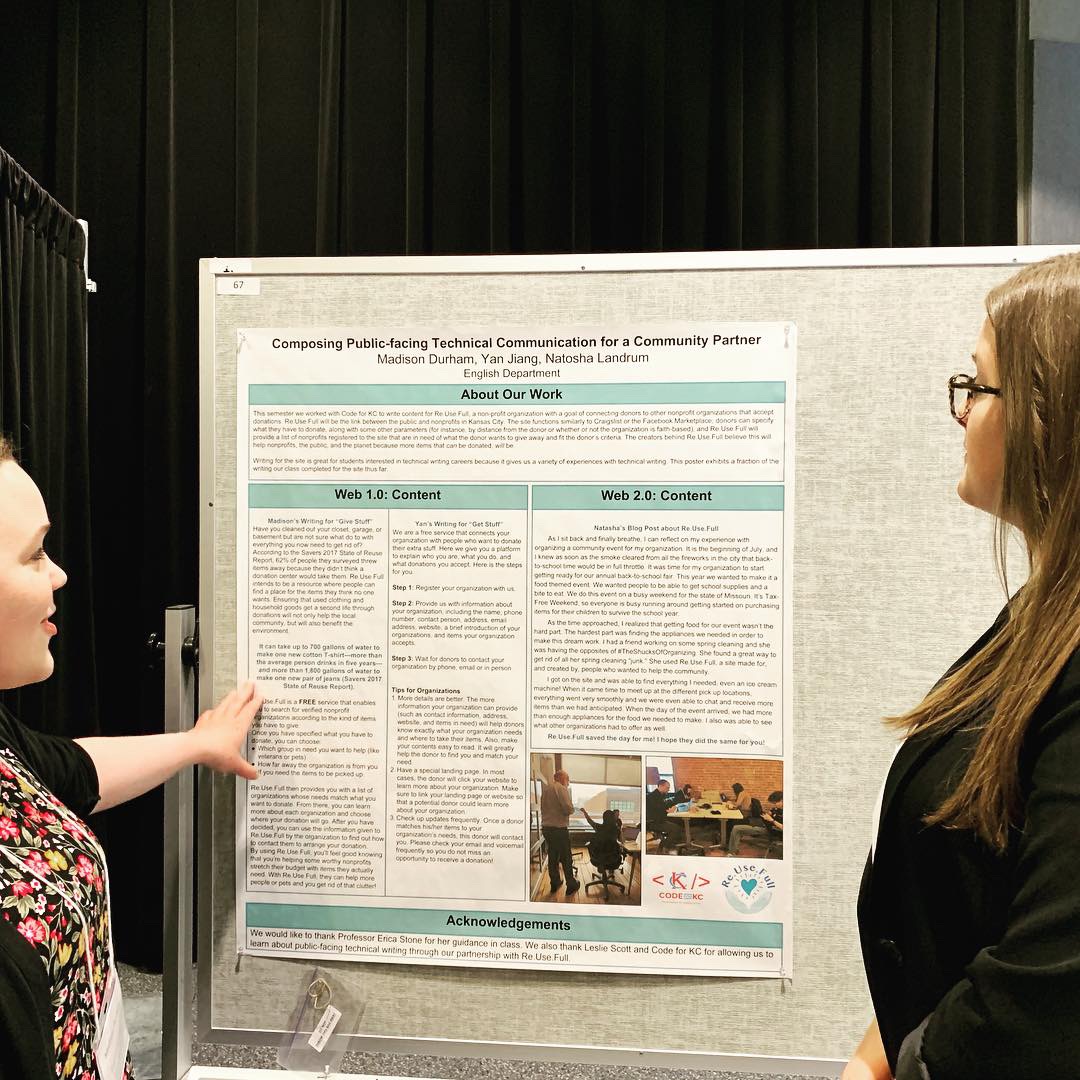 Photo 4: Madison Durham discusses her poster, Composing Public-facing Technical Communication for a Community Partner, with a fellow classmate, Summer Collins.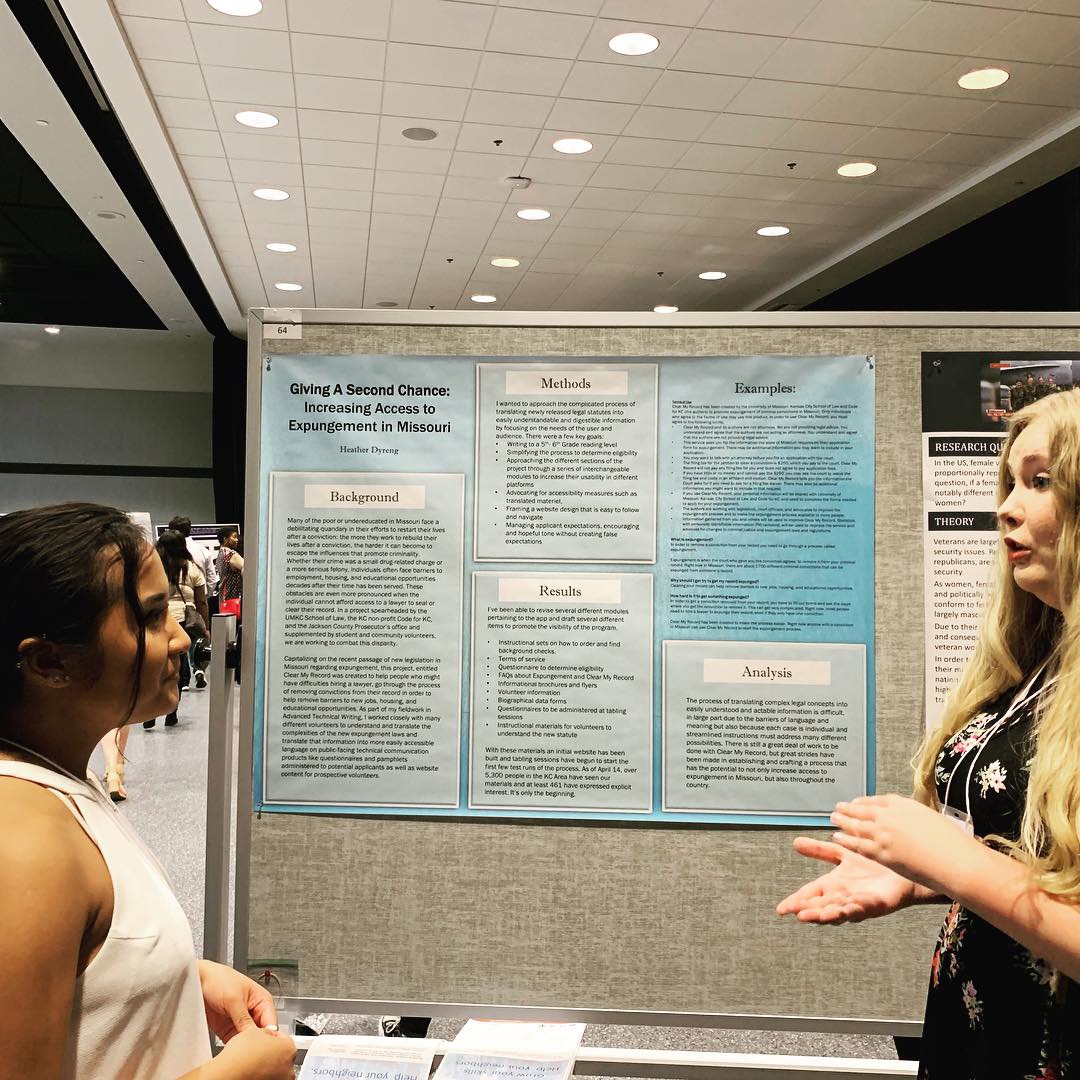 Photo 5: Heather Dyreng discusses her poster, Giving a Second Chance: Increasing Access to Expungement in Missouri, with her classmate, Jasmine Amerin.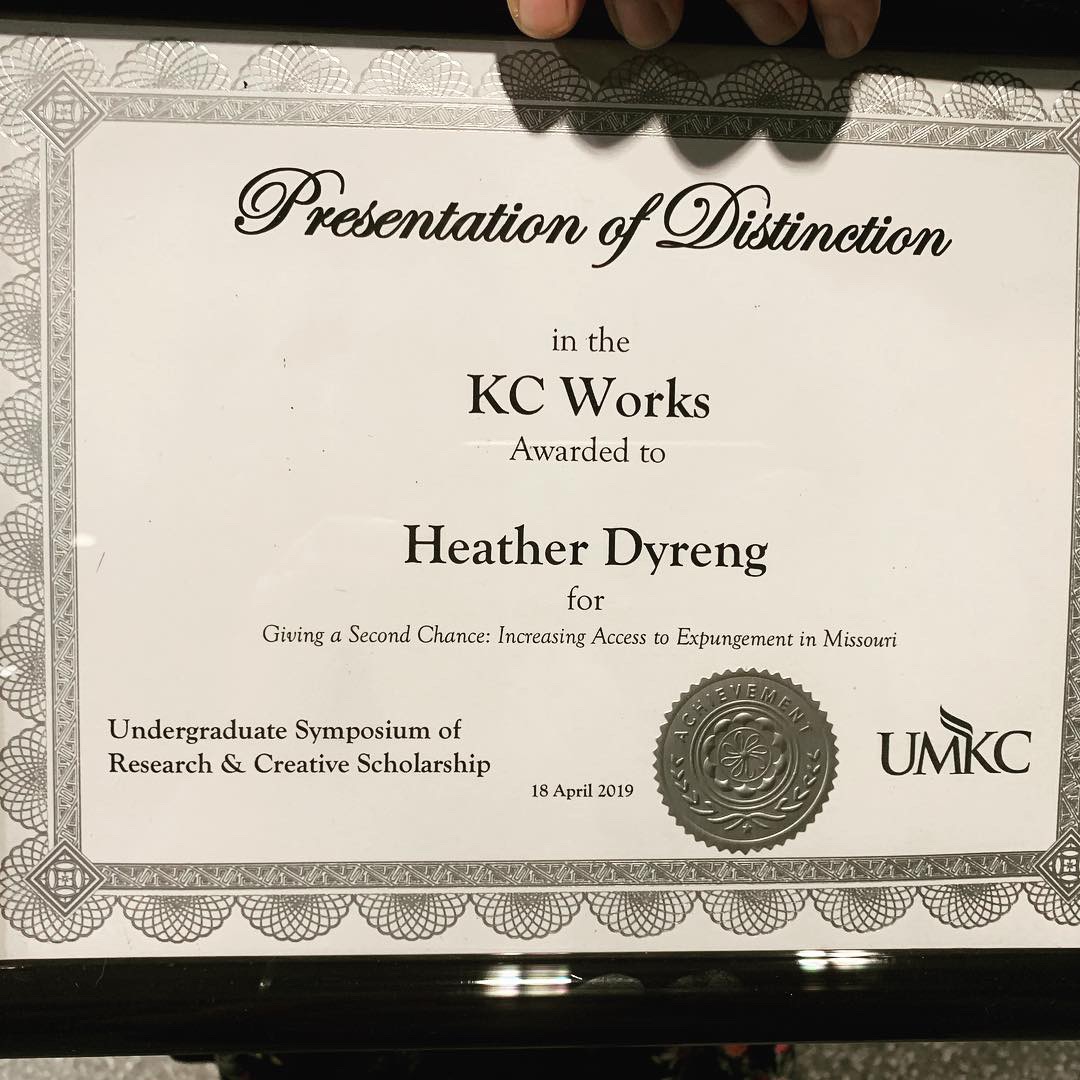 Photo 6: Heather Dyreng's KC Works award for her presentation of distinction
If you're interested in reading one of the students' research posters, you can download and read one here: Figure 4 – Poster Example [PDF]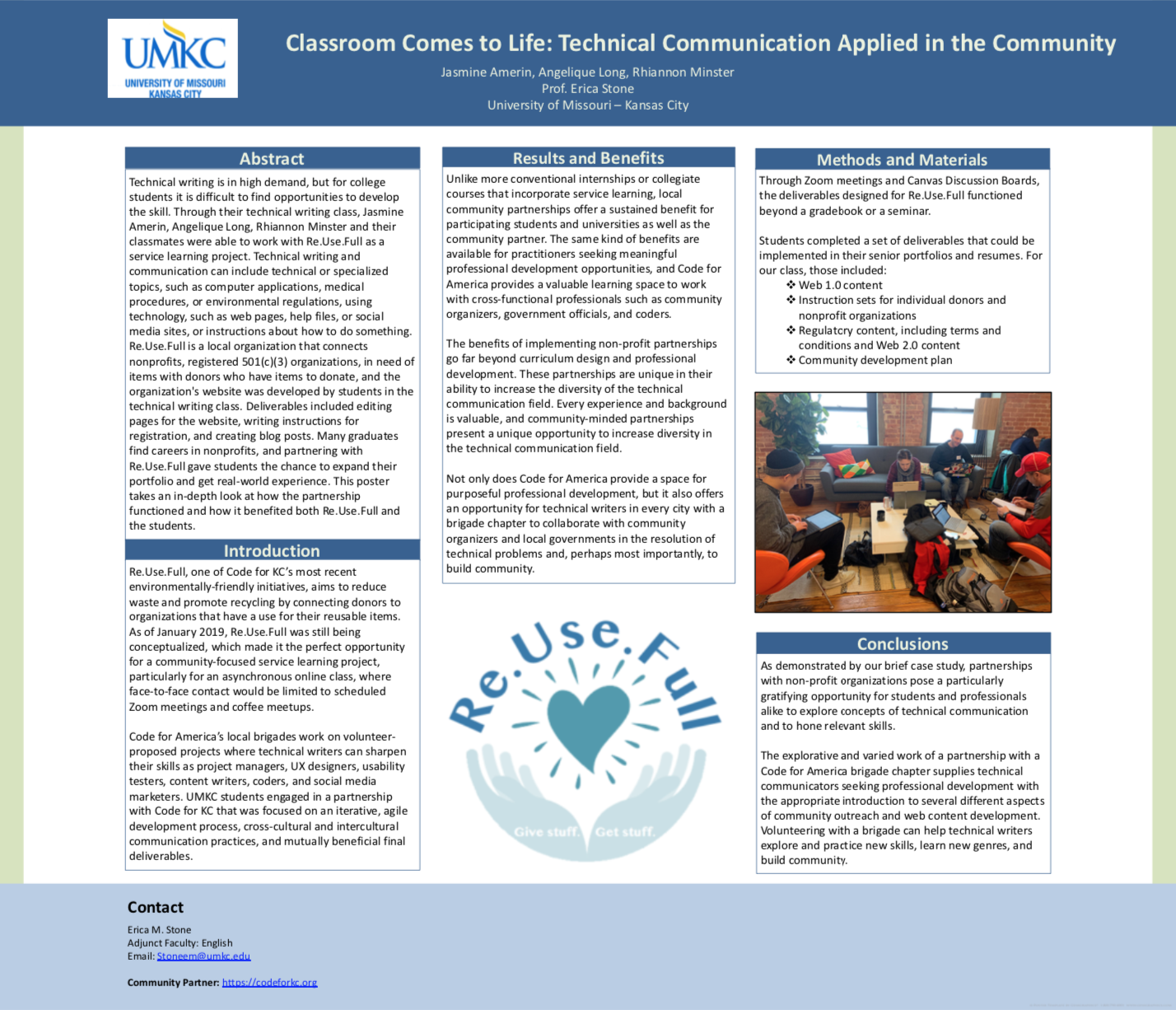 Figure 4: Jasmine Amerin, Angelique Long, and Rhiannon Minster's poster, Classroom Comes to Life: Technical Communication Applied in the Community, describes the collaboration, research, production processes for our class.
Certainly, partnerships with non-profit organizations, like Code for KC, are a gratifying opportunity for students to explore the fieldwork of technical communication as well as build their portfolios and resumes. But, there's something more going on here. In her 2015 article, Building Identity and Community Through Research, Carolyn Rude recognizes the reciprocal relationship between research and practice, reminding us that the field's sustainability depends on a healthy relationship between academia and industry, but perhaps even more importantly, that a "sense of community and a practice of collaboration have always been a part of what makes technical communication appealing as a field, and those values continue to define it" (Rude, 2015, p. 378). It is this 'sense of community' that I found to be the most valuable part of our collaboration process. As both an instructor and a Ph.D. student in technical communication and rhetoric, I have a strong commitment to interdisciplinary partnerships that connect community members to one another and build sustainable, impactful projects. Code for KC provided the opportunity for my students to engage in design advocacy with community organizers and digital innovators, and in turn, they built a local network and a sense of community in Kansas City. I encourage all teachers of technical writing, especially undergraduate service courses, to consider designing a curriculum that includes purposeful partnerships that prioritize community-based pedagogies and social advocacy.
References
Long, E. (2008). Community Literacy and the Rhetoric of Local Publics. West Lafayette: Parlor Press.
Ross, D. & Arnett, J. (2013). "To Do is to Learn: The Value of Hands-on Research in an Introductory Research Methods Course." Programmatic Perspectives, 5(2), 214-242.
Rude, C. (2015). "Building Identity and Community Through Research." Journal of Technical Writing and Communication, 45(4), 366-380. https://doi.org/10.1177/0047281615585753
Scott, J. B. (2004). "Rearticulating Civic Engagement Through Cultural Studies and Service-Learning." Technical Communication Quarterly, 13(3): 289-306. http://dx.doi.org/10.1207/s15427625tcq1303_4
Simmons, M. (2010). "Encouraging Civic Engagement through Extended Community Writing Projects: Rewriting the Curriculum." Writing Instructor, May 2010. https://eric.ed.gov/?id=EJ890596