Rhetoric and Communication in the Time of COVID-19:
A Global Pandemic and Digital Rhetoric as Praxis
Editors: Jialei Jiang and Soyeon Lee
The COVID-19 outbreak as a pandemic is not simply a scientific or health crisis, but a phenomenon of global significance that cuts across social, political, cultural, bioenvironmental, and ethical domains. The crisis has spurred multi-disciplinary conversations in both academic and public spheres, ranging from viral modernity (Peters, Jandrić, and McLaren, 2020) and open science (Kupferschmidt, 2020), to post-truth conditions (Fuller, 2020) and misinformation (Mian & Khan, 2020). Also worth mentioning is the urgency to protect ethnic minority populations and healthcare workers who are disproportionately affected by the disease, as well as indirect victims in financially-disadvantaged communities who are particularly susceptible to the ensuing economic recession.
Recently, educator and researcher Petar Jandrić (2020) writes the following: "It is crucial that academic researchers working in the humanities and social sciences immediately join the struggle against the pandemic." The outbreak is already inextricably connected with a wide array of existing theories and discussions in rhetoric, writing, and technical/professional communication, such as environmental rhetoric (Goggin, 2013), post-truth rhetoric (McComiskey, 2017), the rhetoric of health and medicine (Meloncon & Scott, 2017), as well as the practices of social justice (Walton, Moore, & Jones, 2019). Addressing the challenges of the COVID-19 pandemic necessitates the immediate attention of the computers and writing community.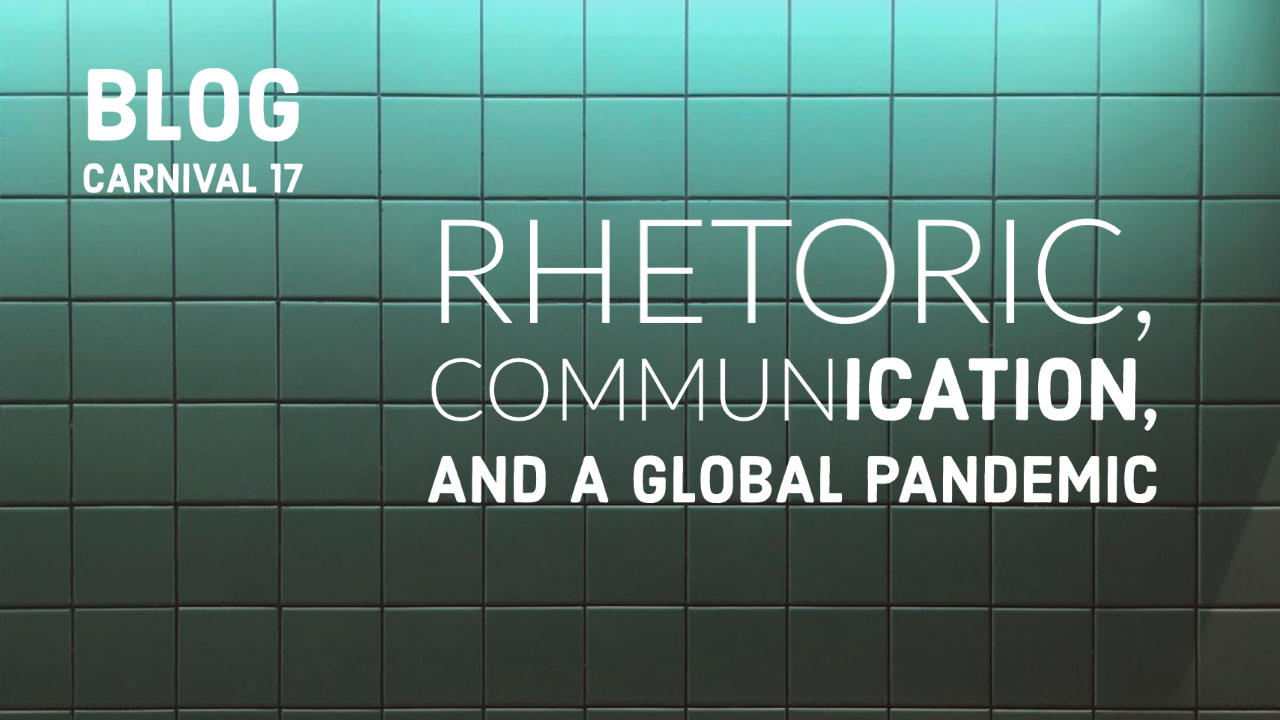 In this Blog Carnival, we invite you to explore this ecological perspective of the current COVID-19 virus crisis. As a response to the disaster, this blog carnival encourages you to explore the rhetorics, discourses, and perspectives around COVID-19, to examine the potential consequences and ramifications of the pandemic, and/or to create possible action plans at the individual, local, national, and global levels.
Possible topics of this blog can include theoretical, practical, or pedagogical conversations that offer insight into rhetoric, writing, and communication under the context of the pandemic. You may choose to conduct text/image/discourse-based analyses or produce reflective inquiries. We welcome contributions on the following themes/questions:
Theoretical: 
How can environmental rhetoric and the rhetoric of health and medicine help us better understand the ramifications and implications of the pandemic? In what ways can the global pandemic extend the current theoretical conversations surrounding environmental rhetoric and the rhetoric of health and medicine?
How can other critical theories and perspectives—including but not limited to decolonial rhetoric, feminist theories, posthumanist/post-anthropocentric rhetoric, post-truth studies, and social justice paradigms—provide theoretical and philosophical lenses for engaging issues of environmental and social justice in the currrent crisis?
Practical:
What are the implications of the pandemic for shifting the public discourses on health and medicine and for sustaining the practices of open-science research?
How can we best respond to concerns about post-truth conditions and misinformation on social media under the pandemic?
How can we best create action plans and facilitate communication around the virus between agencies/institutions at local and/or global levels?
Pedagogical:
What pedagogical approaches or innovations can promote environmental and social justice in rhetoric, writing and technical/professional communication classrooms?
How can we best address the opportunities and challenges of alternative forms of education, such as distance education, open education, and online instruction, in the time of COVID-19?
While these themes are not exhaustive, the focus should bear on connecting the COVID-19 pandemic with our disciplinary-specific concerns (e.g., rhetoric, writing, and technical/professional communication). If you're interested in contributing to this Blog Carnival, please submit your name, email, and short (about 100 words) proposal to this Google Form. We will be reviewing and accepting proposals in early May, so please send your descriptions as soon as possible, but no later than May 22nd. Full blog posts will be due by June 19th. When completed, the blog post should be about 750-1000 words, but we do have some flexibility as we're on a digital platform. We encourage posts in a variety of forms and any medium appropriate for featuring digitally on the DRC, such as texts, images, audios and videos (usually about 10-30 minutes), or other multimedia.
Extended Timeline: 
100-word proposals due – May 29th
Acceptance notices – June 5th
Blog entries due – June 26th
Final publication – July 3th